St.Vladimirís Parish
Our congregation consists of people of various backgrounds, and we try to be open to all. Visitors are always welcome, and the Orthodox Church extends its hand to all who are seeking a firm foundation of faith.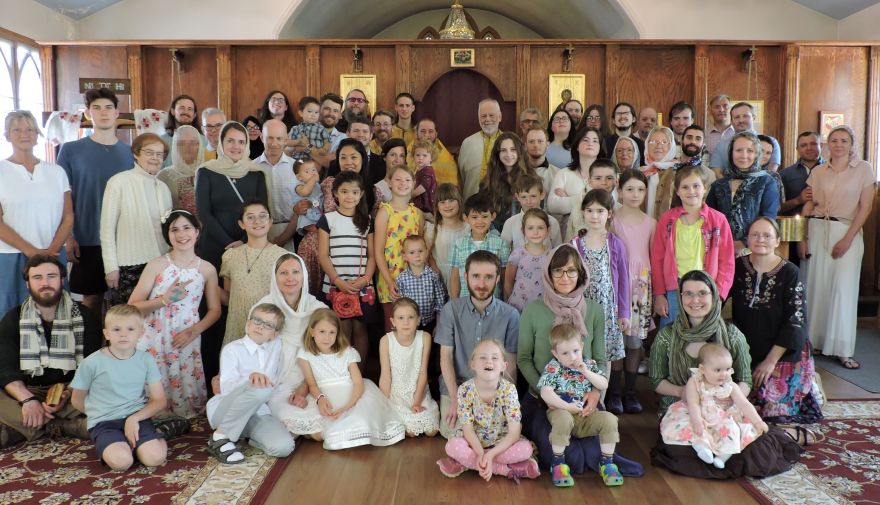 Orthodox Church in America (OCA)
St. Vladimirís was founded in Halifax, NS by a small group of English and Russian speaking individuals lead by Fr. Vladimir (Tobin). This group wanted a parish which would be non-ethnic and open to all and finally decided that the Orthodox Church in America (OCA) was the most suitable jurisdiction for them.
The OCA grew out of the Patriarchal Russian Church and was originally granted its independence by Patriarch Tikhon of Moscow at the time of the Russian Revolution. For a number of decades, there was uncertainty about the canonical status of the OCA, but its autocephaly was finally established once and for all in the 1970ís. Since then, the OCA has continued the tradition of Russian Orthodoxy, using both English and Slavonic in its services and adapting itself to the needs of each particular area. Although the OCA retains the Russian tradition of music and spirituality, it is also very much the Orthodox Church for contemporary North America.
Parish History
From 1996 onwards, the parish met in the domestic chapel in the home of Fr. Vladimir off Chebucto Rd. in Halifax. In 2000, we moved next door to the domestic chapel of the monastic community of St. Sergey of Radonezh. When the monks, Frs Roman and Cassian, relocated to a rural setting in New Germany (forming the Hermitage of the Annunciation), we moved to 5429 Cornwallis Street, into a church hall of St. Georgeís Anglican Round Church. Meantime, in 2005, Fr. Vladimir also relocated to the country, not far from the Hermitage, but continued travelling to Halifax to provide his pastoral care for the parish.
After nine years, our landlords asked us to vacate the hall due to extensive building renovations. It was a time of great uncertainty as the parish had no financial means of renting any suitable space at the marked value. We were blessed, however, with an opportunity to move info another former Anglican chruch, St.Phillipís stone church, on Purcellís Cove Road.
In 2014, a member of our parish, Fr. Alexander Treiger, became a diacon, and in 2016, a priest. It was a great help for Fr. Vladimir to be able to joinly conduct church services and to have a substitute during sick days or vacation times. We also continued to keep strong ties with the Hermitage of the Annunciation, with many parish members often visiting and hepling monks in New Germany. In 2017, a parish member moved to the Hermitage and later, in 2019, became a monk and a priest (Fr. Jean-Baptiste).
The year 2019 became another major turning point in the history of St.Vladimirís. In early April, Fr.Vladimir was dismissed from his post as the rector of the parish and ordered to retire by His Eminence Archbishop Irénée (Rochon) of Ottawa and All Canada. Upon many requests from parishioners, the decision was reversed two weeks later, but then came into effect once again in August 2019.
Starting September 2019, Archbishop Irénée became the official rector of the parish but, because of his other duties, could not remain in Halifax. For two months, the parish had no permanent priest but continued to conduct weekly and special services with the help of the choir, Fr. Alexander, and hieromonks from the Hermitage. Finally, in November 2019, a new priest, Archimandrite David (Edwards), arrived to Halifax to take charge of the community started by Fr. Vladimir a quarter century ago. In October, 2020, Archimandrite David was appointed Rector of St. Vladimir Church.
Let us hope the parish will grow and prosper forever!
Rector: Archimandrite David (Edwards)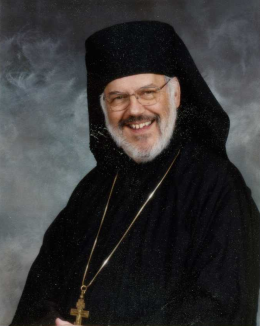 Autobiographical Notes
I was born in Southampton England in June 1940 just six months before the town was bombed and almost obliterated in the Blitz. Somehow the whole family survived the Second World War.
Being a military family, we tended to move around. The most significant move was in October 1954 when we crossed the Atlantic in a small Cunard Liner, the Ascania which was caught in Hurricane Hazel. That trip had its ups and downs ó I well remember. First we went to Petawawa in Ontario and then to Calgary. All military postings.
Somehow in all my deliberations, I decided to become a priest, Anglican at that time. Off I went in October of 1965 to St. Chadís College of Durham University; my first ever flight in any aircraft, but this was a DC8, Winnipeg to London via Prestwick in Scotland. I didnít like it one tiny bit. This was my second degree. The college was a seminary as well as a teaching college of the University.
My first ordination (Anglican) was to the Diaconate in Winchester Cathedral in the same year that the song about Winchester Cathedral hit the airwaves. I returned to Canada where I served in Brandon, was ordained to the priesthood and moved to the Interlake area, both of which are in Manitoba, from whence I moved to Northumberland in England to become a Franciscan monk.
Somewhere in there, I decided that I could add to my usefulness by becoming a teacher, so I did. That resulted in my teaching in South Wales for eight years.
The next bit is complicated. I went to Montreal for a year. I was actually received into the Roman Catholic Church. But a conversation with the then Father Callistos Ware stuck in my mind. I finally came home to Orthodoxy in 1982 and was ordained to the Diaconate and Priesthood under the authority of Metropolitan Philip of Blessed Memory, of the Antiochian Archdiocese, by Metropolitan Vladimir, also of Blessed Memory, in Winnipegís Holy Trinity Sobor on Manitoba Avenue. I served the now defunct Western Rite parish of St. Mary the Virgin on Winnipeg Avenue. After several fill-in stints at the Sobor, I moved to help at St. Georgeís Transcona all the time teaching at a North Kildonan Junior High School.
So how did I come to be in Halifax? Again a complicated story. I was appointed Abbot of the Monastery of St. Silouan the Athonite in Spencerville Ontario. Unfortunately the monastery had to close and Father David became homeless. The kindness of Archbishop Irénée, Anna and the Rawdon parish, I was able to exist until I found an apartment in Ottawa. I became involved with a Patriarchal parish under Bishop Matthew of Sourozh. They closed to become largely OCA. at the same time I heard that there was a vacant parish in Halifax so I asked Archbishop Irénée if I could help and here I am. May God bless my stay in Halifax and all the incredible people Iíve met in the parish so far.
Assistant Priest: Fr. Alexander (Treiger)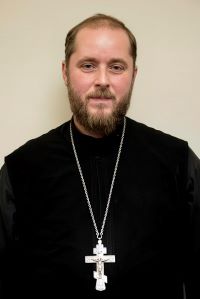 Priest Alexander (Treiger) was born in St. Petersburg, Russia in 1975. It was in secondary school that he first discovered Orthodox Christianity. The desire to learn more about Orthodoxy and to embrace it inwardly grew stronger over the years. This dream came true in January 2001 in the Holy Land, when he received holy baptism in Jerusalem. In August 2001, he relocated to New Haven, CT to continue his studies. In 2008, he accepted a teaching position in Halifax and joined the parish of St. Vladimir. In January 2014 on the Feast of Theophany, His Eminence Archbishop Irénée ordained him to the holy diaconate, and in January 2016, to the holy priesthood.
Fr. Alexander was educated in Jerusalem and at Yale. He holds a PhD in Arabic and Islamic Studies. Currently, he works as associate professor of Religious Studies at Dalhousie University in Halifax, teaching classes on the Abrahamic Religions. His main field of research is the history of the Orthodox Church in the Arab world. He has many publications in the field and is one of the editors of a new anthology of Arab Orthodox texts from the millennium 700Ė1700 in English translations.
Fr. Alexander is married to Ksenia. They are blessed with four children: Anna, Alexey, Maria, and Vera.
Parish Founder: Rev. Dr. Vladimir M. Tobin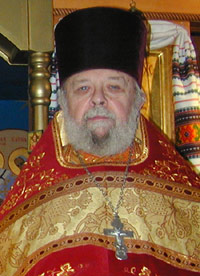 The founder of our parish, Fr. Vladimir (Tobin) was born in 1942 in Halifax, Nova Scotia, and was attracted even during his teenage years to the Orthodox Church. Unfortunately at that time, there were no opportunities for non-ethnic Orthodox in this area, and he became a member of the Anglican Church and eventually an Anglican priest. However, his theological formation was very strongly influenced by Orthodoxy, and in due time the way was opened for him to become a member of the Orthodox Church and an Orthodox priest in 1993. He was tonsured as a hieromonk in Moscow in 2004.
Fr. Vladimir received his education in Halifax at Dalhousie University where he took a B.A. in Classics and an M.A. in Patristic Theology. From Pine Hill Divinity Hall he received a Master of Divinity. Later, he moved to Israel where he studied at the Hebrew University of Jerusalem and received his PhD in Egyptology. He taught at Saint Maryís University in Halifax for many years where he established the first program in Egyptology east of Toronto. He authored several books and numerous articles on Egyptian myth, religion, literature and history and is a highly respected scholar in his field. He has studied a total of nineteen ancient and modern languages, among them Russian and Church Slavonic. He is still active to a certain extent in his academic interests and enjoys attending conferences and giving public lectures.
Fr. Vladimir finally retired from his secular job in 2005 and moved to Punehurst, NS, where he lives with a cat in a large country farmhouse. He is also an accomplished musician and spends hours each week practicing on his Yamaha grand piano. When Fr. Vladimir retired from teaching, he did not give up his involvement with the church. He continued to serve as the parish pastor and commuted to the city for services each weekend.
In May 2008, the Holy Synod of Bishops elevated Fr Vladimir to the rank of Igumen.
In August 2019, Fr. Vladimir has been dismissed from the post as the rector of St.Vladimir church and retired to his country house in Punehurst, NS. He continues, however, to serve Liturgies in his domestic chapel, gives sermons, and remains in close contact with many parish members.
Parish Membership
Only registered parish members have the right to vote during parish business meetings. To confirm your membership, please fill out the membership form. If you would like to become a member, please fill out pages 1 & 2. If you are simply renewing your membership, please fill out page 1 only. If you have changed your contact information recently, you may also want to fill out page 2. All information is kept confidential. Hard copies of the membership form are also available at Church.
Prosphora Baking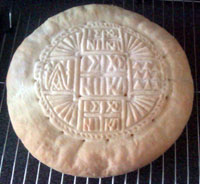 Baking prosphora is a very important and honourable ministry, we cannot celebrate the Eucharist without it! Everything is done by hand. You do not need a mixer just some bowls and your hands. Prosphora does need to be delivered to the church early on Sunday morning (no later than 9:45am is best) but you can definitely bring it in on Saturday evening at vespers.
We are in need of more people to bake prosphora. Any member of the church who is in good standing may bake prosphora. If you are interested in learning or already know how to bake it and can sign up for a one month rotation please do so. It is not complicated and there are several people in the parish who would be glad to teach you. Please see Maria, or email to prosphora (at) halifaxorthodox (dot) org. Click here to read the recipe in PDF.