February 4, 2023
Week 34 after Pentecost
Saturday February 4th 5:30pm Panikhida for the victims of the war in Ukraine, followed by Vespers
Isaiah 43:9-14, Wisdom 3:1-9,
Wisdom 4:7-15
Sunday February 5th 10:00am Divine Liturgy, followed by Coffee Hour
Sunday of the Publican and the Pharisee
Beginning of the Lenten Triodion
2 Timothy 3:10-15
St. Luke 18:10-14
Sunday of the New Martyrs and Confessors of Russia
Romans 8:28-39
St. Luke 21:12-19
Tone 1
Small bulletin this week.
Reminder of the Family Fun and Sunday School this Friday evening starting at 5pm in the basement of the church. All those involved had a wonderful time last time we got together and this time will be fun too. Anybody can come, especially the children.
I'd like to meet with the Catechumens on Friday 10th February at 6pm, probably at my apartment. We shall be discussing St. Theophan the Recluse on Prayer, and Great Lent and what are the Orthodox expectations as regards fasting.
A great thank you to all who have phoned, visited, shown concern, and supplied lovely food.
Waiting for Daddy and Grandad.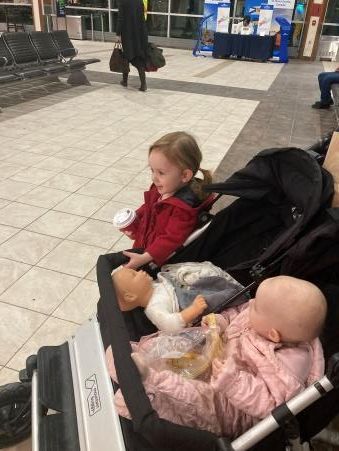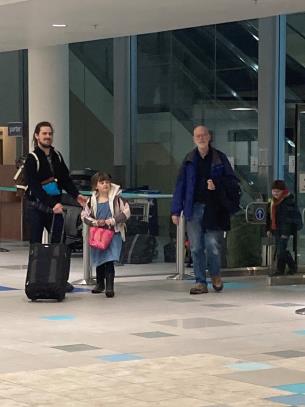 Love in Christ,
-- Father David
Sundays and major feasts are in red. Fast days are shaded.
January 27, 2023
Week 33 after Pentecost
Saturday January 28th 5:30pm Adult Discussion Group followed by Vespers
Sunday January 29th 10:00am Divine Liturgy, followed by Coffee Hour
Zacchaeus Sunday
1Timothy 4:9-15
St. Luke 19:1-10
Veneration of the Precious Chains of the Holy and All-Glorious Apostle Peter
Acts of the Apostles 12:1-11
St. John 21:15-25
Tone 8
Please note that in the same way we have sprinkled the church with Holy Water, we need to sprinkle your home with Holy Water. Please ask me or Father Alexander and arrange a time for the blessing of your home.
Let me say right away how thankful I am that I was not hurt more than I was. Your care was incredible, thank you. At the moment my back aches and is sore. I could have broken something and I am really thankful that no bones were broken except perhaps the dorsal left side floating ribs being bruised, cracked or perhaps broken. There is little one can do for that except bind and use pain medication. Both of these measures I am using. I want to thank all who have suggested that they do house-work, some have even provided me with soup, and meals and even a very delicious cheesecake. Delicious!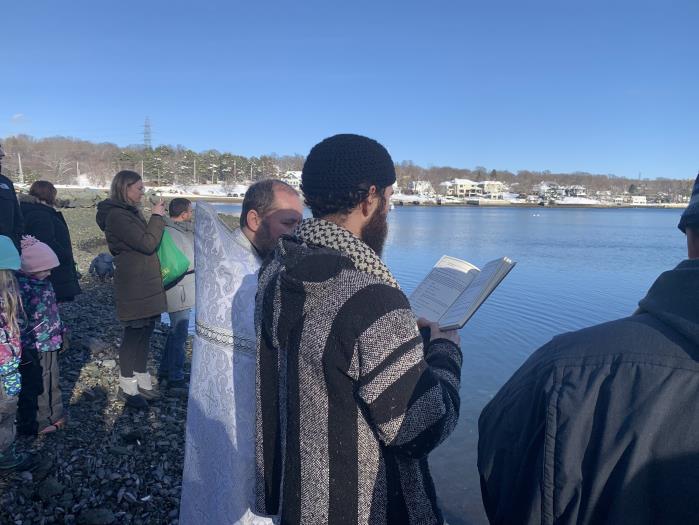 I may not be able to be at church on Saturday and Sunday because of the ache. There is a baptism during the Liturgy. Please give Father Alexander as much help as possible. I do not like leaving him alone. Please remember that he works full-time at the University and this is just a further worry for him. He is a wonderful priest.
A few moments ago, I was speaking with Braidyn-Spyridon and it seems that his Grandma Maggie has had a stroke. She is over a hundred, please pray for her and her family.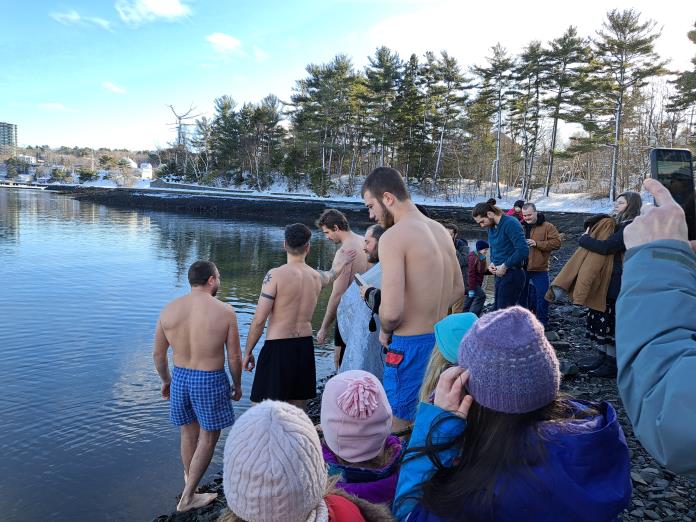 Don't you just wish you had gone down to the blessing of the Atlantic. I didn't go for obvious reasons but Father Alexander went and blessed the Ocean and 6 of the parish's young men jumped into the water to retrieve the cross. I see from the photographs that Sergey had the cross in his hand. Brilliant? Josh had to jump in after the others - he was doing the prayers. I understand the bottom of the water was complete mud. I know that at least two slipped. This is now a St. Vladimir Parish tradition. I refuse to have an accident before the next year dip. (God willing!) The whole set of photos can be seen on our parish Website. Alina will have put everything up including the two videos. If there are any more photos or videos, please forward them to Alina for inclusion on our web pages.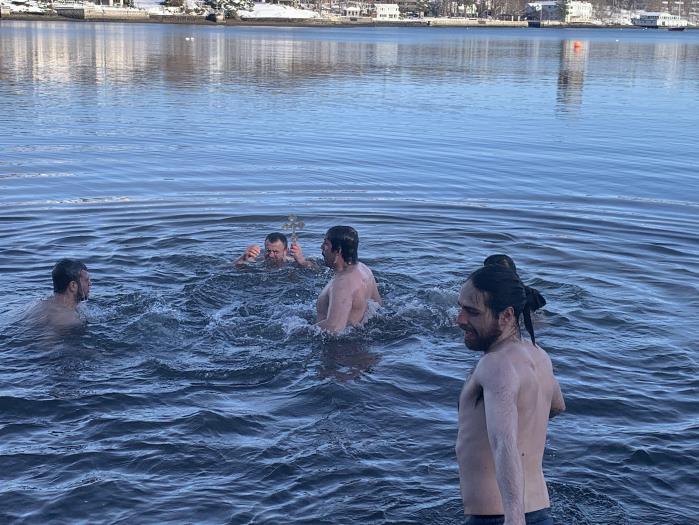 Thank you very much for the Christmas Gifts very thoughtful of you, as usual. God Bless all of us,
Love in Christ,
-- Father David
January 20, 2023
Week 32 after Pentecost
Saturday January 21th 6:00pm Vespers
Sunday January 22th 10:00am Divine Liturgy, followed by Coffee Hour
After Feast of the Theophany
Ephesians 4:7-13
St. Matthew 4:12-17
St. Philip, Metropolitan of Moscow
Hebrews 13:17-21
St. John 10:9-16
Tone 7
Please note that in the same way we have sprinkled the church with Holy Water, we need to sprinkle your home with Holy Water. Please ask me or Father Alexander and arrange a time for the blessing of your home. Theophany House Blessing is not the same service as the blessing of a new home. It is a short service where the priest says a short prayer then he and the people sing the Troparion of the Theophany while sprinkling the home with Holy Water:
When You, O Lord were baptized in the Jordan
the worship of the Trinity was made manifest
for the voice of the Father bore witness to You
and called You His beloved Son.
And the Spirit, in the form of a dove,
confirmed the truthfulness of His word.
O Christ, our God, You have revealed Yourself
and have enlightened the world, glory to You!
You are welcome to offer the priest a cup of tea or coffee afterwards. You could have a candle, an icon, and a bowl with Holy Water ready. It is all very simple and lasts about a half an hour, of course depending how large your home or apartment is; yes, apartments are bless as well, even tents and motor homes if that is where you live. What we are doing is sanctifying your home the same way we sanctify the church.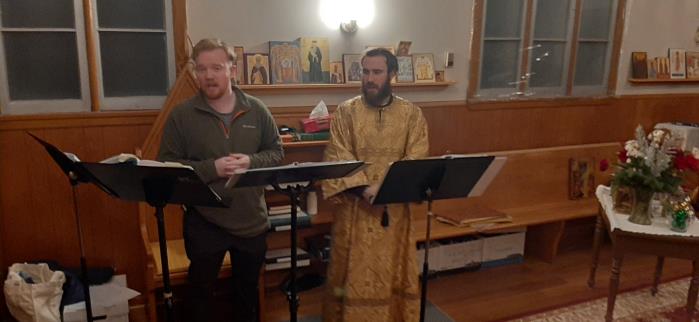 We have a number of Catechumens now. Please make sure they feel at home and feel a part of us. They are learning the Faith by being at the services after all that's where the real learning how to be Orthodox takes place. Father Nicholas Behr (Father John Behr's father) told me that, when I was becoming Orthodox a long time ago, that's was well into the last century. (Thinking of that, I now pause for a cup of coffee and a biscuit or two.)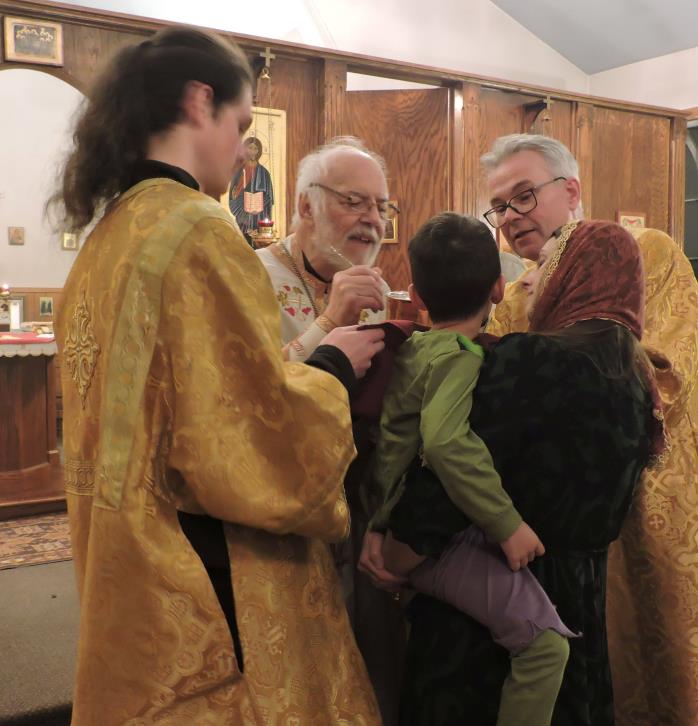 I want to thank all those who gave Christmas Gifts, cards and wishes. Thank you. You spoil me!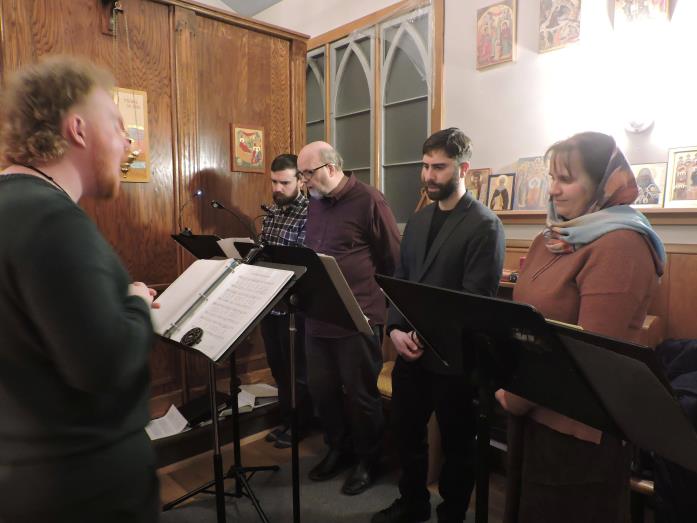 Can you believe how many came for the Vesperal Liturgy and the Great Blessing of Water? We even had a feast afterwards, thank you Kristen, and those who brought food and drink. Thanks to Cameron, the music was beautiful and thanks to the altar crew, it all went smoothly, and a large thank you to Father Alexander who always makes sure I am not too taxed, and able to cope; he is always there to fill in.
Father Theodore continues to need our prayers. He is home and improving but perhaps not quite as quickly as he should.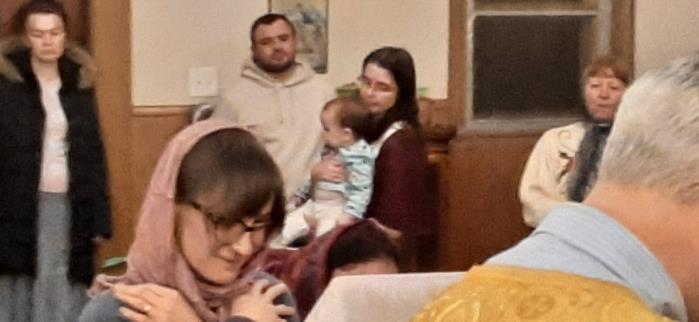 With the Feast of the Theophany we conclude the Christmas season, so now we can remove Christmas Decorations storing them carefully for next year when hopefully, we can use them again, according to God's Will, of course. Thanks to those who decorated the church so beautifully this year, it was really lovely.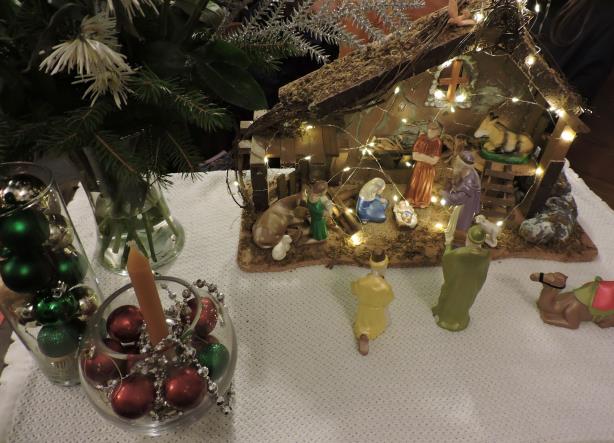 You can find most of these and many more pictures on our website, some I took but the majority were taken by Alina. It was amazing how many of the children came to the late evening service at Christmas. Some were awakened for Communion, and I suspect a couple didn't know exactly where they were. One, I remember, had to have his mouth opened to receive Communion; he was more asleep than awake. It was all really nice to see.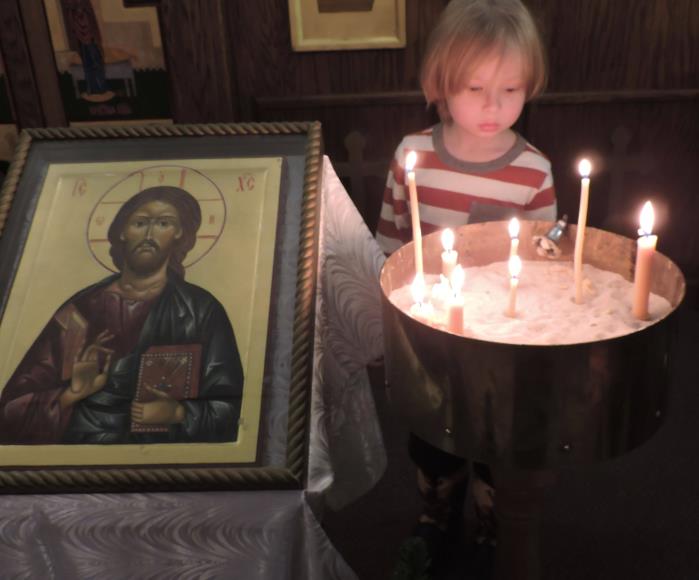 Father Alexander and I served with Father Maximos, Father Peter and the priest from Prince Edward Island, at the feast of St. Anthony, the Patron Saint of St. Antonios Church. It was a very nice service. I hadn't remembered that amongst the many Relics that St. Antonios has, is a relic of St. Anthony. What a blessing!
Well my Dear Friends,
May God bless all of us and protect us
from all evil and from anything that
might hurt us,
Love in Christ,
-- Father David
January 13, 2023
Week 31 after Pentecost
Saturday January 14th 6:00pm Vespers (Following the Adult Discussion Group)
Genesis 17:1-7, 9-12, 14; Proverbs 8:22-30;
Proverbs 10:31-32, 11:1-12
Sunday January 15th 10:00am Divine Liturgy, followed by Coffee Hour
Forefeast of the Theophany
2 Timothy 4:5-8
St. Mark 1:1-8
St. Seraphim Wonderworker of Sarov
Galatians 5:22-6:2
St. Luke 6:17-23
Tone 6
Wednesday January 18th 5:00pm Theophany Eve Vesperal Liturgy of St. Basil, Great Blessing of Water (fill bottles and jars with Holy Water)
Saturday January 14th 4:30pm Adult Discussion Group. All welcome
Please remember that on Wednesday January 18th there is the Vesperal Liturgy of St. Basil. This is the Liturgy to celebrate the Theophany. We will start at 5pm so we can get the Great Blessing of Water in and because many will be fasting before Communion.
Can you believe that we have just come through the Fast Free week. We were even permitted to eat meat on Wednesday and Friday following Christmas. Now we settle into the regular pattern of Wednesday and Friday fasting but be sure to consult your Calendar, which are for sale in the Foyer for $10; there are two sorts, all English and Slavonic and English.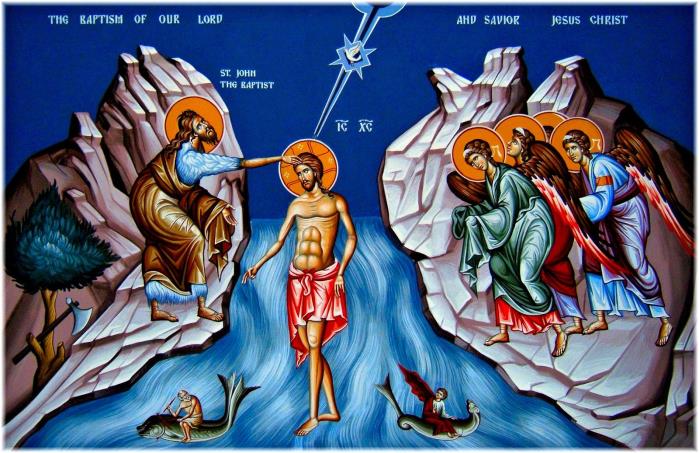 Theophany is the Revealing of God. In this Icon Jesus is being Baptised by John the Forerunner but John is not looking at Jesus, he is paying attention to the descent of the Holy Spirit and the Voice of God the Father. The angels are waiting to clothe Jesus, the New Adam. God made Adam and Eve naked but through shame they put on clothing so Jesus is naked and not ashamed, undoing the shame of The Garden. You might notice the Ocean and the River Jordan giving way to the greater power as Creation is Baptised in the person of Christ.
Remember the shell and stone icons made by Father Theodore and Presbytera Joy. Pray for Father Theodore who is out of hospital, Glory to God.
Here is a note from Taran about the parish outreach to the homeless:
"Hello Dear brothers and sisters in Christ,
I humbly wish to begin planning the next mission to the homeless. Since the situation is ever changing, I will go again to visit the parks and see where people are. I hope to pick a day of good weather to go out in this time. May God grant us this.
Also Morgan has been inspired through the grace of God to contact certain individuals already involved in similar outreach projects and has received some helpful advice from them. I think it would be great to have a meeting to discuss future plans and how to move forward with this Holy Ministry in the name of Christ. If folks could give me a rough sense of their schedule for the next couple weeks that would be great.
Also, It is worth mentioning that many other Parishioners have expressed interest in being involved in this ministry, so please don't feel pressured to participate in every occasion or every meeting. We are all One in Christ and together, with God's help, we will accomplish much.
Thank you all again for your hard work, your heartfelt concern for the needy, and most of all, for your prayers. Our Prayers are our primary weapons against the enemy of Mankind, and God is infinitely faithful and loving. He will provide us everything we need to take care of His Children.
I thank God for you all. May God bless you and be born a new in your hearts unto the ages of ages. Amen.
Christ is Born, Glorify Him!
Love in Christ,
-- Taran"
Some pictures taken by Alina at the Christmas celebration: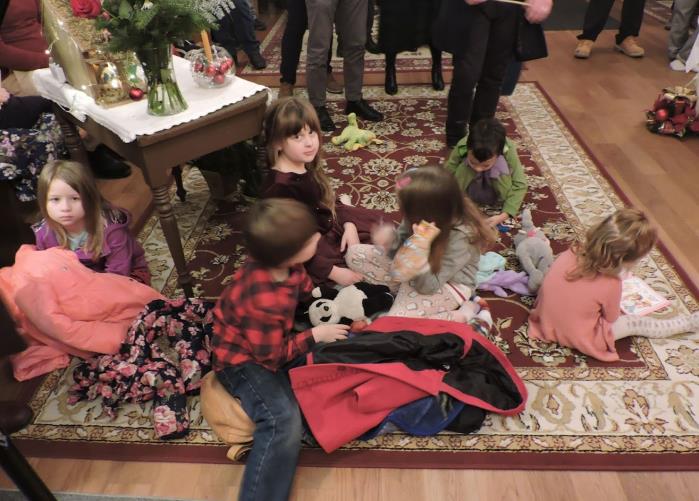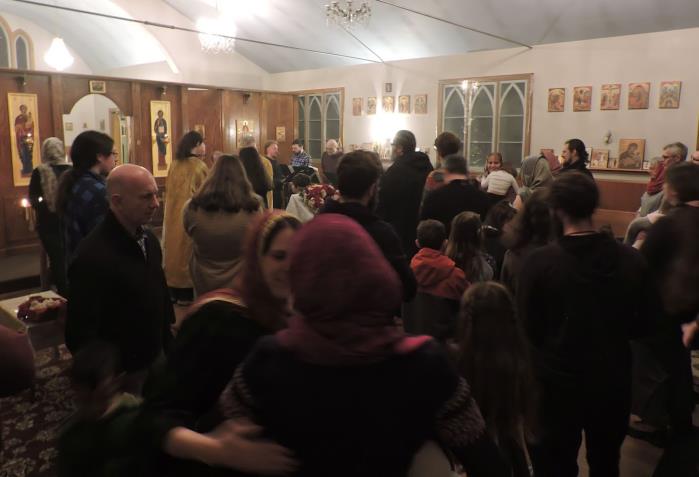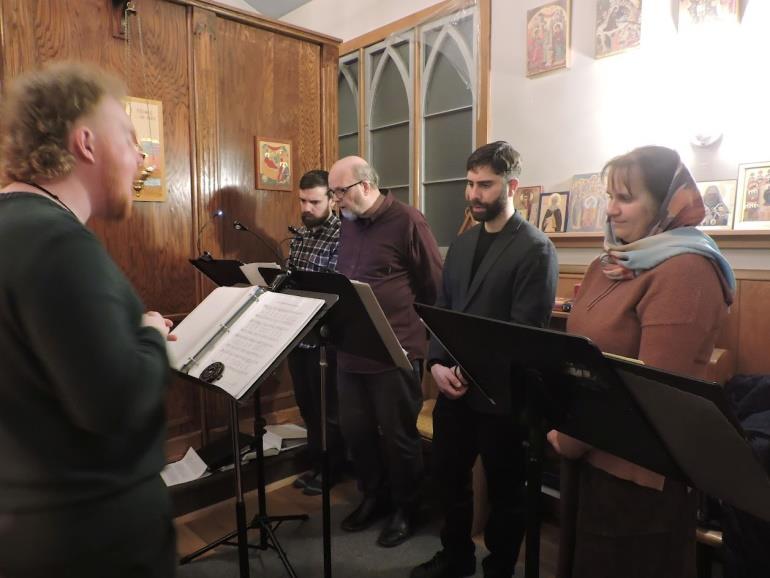 There are more photos at: https://photos.app.goo.gl/R7fiuhKpJcdLfGwL9
May God bless each of us,
Love in Christ,
-- Father David
January 6, 2023
Week 30 after Pentecost
The Nativity according to the Flesh of Our Lord, God, and Saviour Jesus Christ
Friday January 6th 9:00pm Matins followed by Liturgy
Galatians 4:4-7
Matthew 2:1-12
Saturday January 7th 6:00pm Vespers
Sunday January 8th 10:00am Divine Liturgy, followed by Coffee Hour
Sunday before the Nativity
Colossians 3:12-16
St. Luke 18:35-43
Tone: 5
Commemoration of the Holy Righteous Ones: Joseph the Betrothed, David the King, and James the Brother of the Lord
Galatians 1:11-19
St. Matthew 2:13-23
May God bless all of us who are the Parish of St. Vladimir Prince of Kiev. Father Alexander and I wish every one a Very Merry Christmas, "May God Bless Us, Every One" (Thank you Charles Dickens!)