September 22, 2023
Sixteenth Sunday after Pentecost
Saturday September 23 6:00pm Great Vespers
Sunday September 24 9:30am Hours, 10:00am Divine Liturgy
Tone 7
Look on the Wall Calendar for Scripture references
Tuesday September 26 6:00pm Vespers with Litia
Wednesday September 27 9:30am Hours, 10:00am Divine Liturgy
The Universal Exaltation of the Precious and Life-giving Cross
Father Stelian and Matushka Lena travelled to the Mission in Cape Breton. Mary and her family were there plus Vyvyan Almond a guest from England, invisible because he took the photo. Unfortunately, Nick and Jen and their family were unable to attend due to rather bad colds; we hope the four of them are getting better. The picture was taken by the guest. Thank you for travelling to Cape Breton, Father and Matushka. Nick has found that there is a sizable Ukrainian population in Cape Breton. We look forward to contacting them.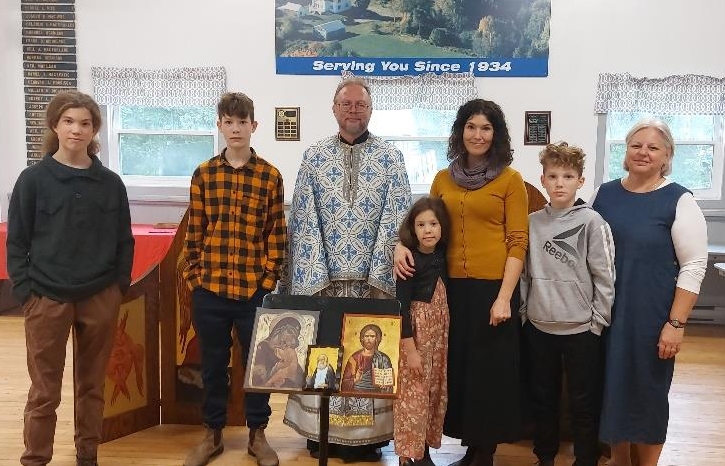 I've been looking into the newspapers on Cape Breton. There is one and I've emailed for advice. I doubt that I'll get a reply but I or someone will persist.
This was a picture I found in the Daily Telegraph a week or two ago (I hope they don't mind me sharing it with you). Does it remind you of anyone - a man, perhaps a shepherd, perhaps just someone passing by, rescuing a sheep?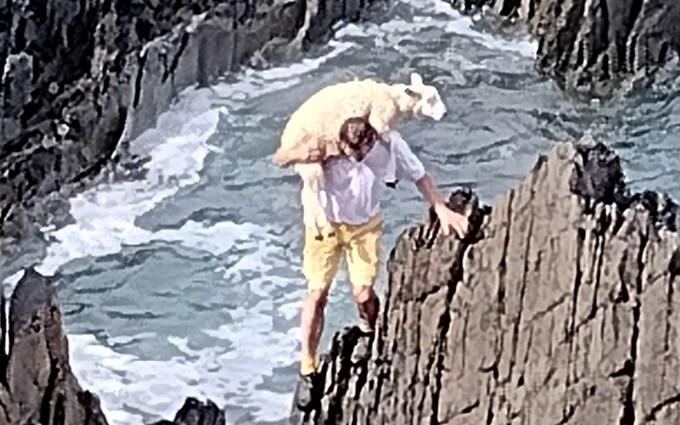 Catechumen meetings are not going well. It is difficult for the catechumens to get to my apartment after work on Friday. Some live a long way away so we will change the time and the venue to after Liturgy on Sunday and at the church. The first of these will be October 1st after the coffee hour and will continue fortnightly.
Don't forget the Vespers and Liturgy September 26 and 27 for the Exaltation of the Cross.
Don't forget the Garlic from the Hermitage of the Annunciation. $15 per lb. (that's pound in old signage!). The monks depend on the sale of garlic at the end of the year to finance the sewing of seeds for next Spring. Let's help them as best we can.
Autumn Equinox this year is Saturday, September 23, at 3:50am. The day and night are equal in length. How many shopping days until Christmas, well Santa or Turkey Christmas. Our Christmas will be celebrated on January 7, as usual. Just a reminder, that January 7, 2024 is a Sunday so the Liturgy will start late on January 6, Saturday evening.
Father Stelian and Matushka Lena will be returning to Ottawa during the week. They have a house to sell. Pray that it sells so they can come back to us. Subdeacon James and his family now belong to us.
So, there we have it.
May God bless all of us,
Love in Christ,
-- Father David