September 23, 2022
Week 15 after Pentecost
Saturday September 24rd 6:00pm Vigil (that's Vespers and Matins)
Sunday September 25th 10:00am Divine Liturgy
Readings for this Sunday
2 Corinthians 4:6-15
St. Matthew 22:35-46
Tone: 6
Monday September 27th Great Vespers The Universal Exaltation of the Precious and Life-Giving Cross
Exodus 15:22-27; 16:1-2,
Proverbs 3:11-18
Isaiah 60:11-16
1 Corinthians 1:18-24
Saint John 19-16-11; 13-20; 25-28; 30-35
Also the repose of St. John Chrysostom archbishop of Constantinople
Postponed until October 8: ADULT EDUCATION AND CATECHUMEN INSTRUCTION
Please remember the Adult Education, including Catechumen instruction, at 4:30 Saturday October 8th, that's just before Vespers. Dan has emailed the sheets we will be looking at as the books (On the Incarnation by Saint Athanasius) have not yet arrived.
GARLIC
In the church are posters for the garlic produced by the Monks at the Hermitage of the Annunciation. Most of us use garlic and this particular garlic is not only Canadian but also local. Father JB happened to mention that the success of this year's Garden will depend on how much garlic they sell at just $13.50 per pound. Please take advantage of this offer. If you are not used to ordering from the monks have a word with David or Heather who order regularly from them. They will tell you how to order and pay. I'm going to order enough to last me for the whole year by freezing cloves (of garlic that is!) I'm sure Google will tell you how to freeze or preserve garlic (it's got everything else!) There is also the Monk's Garden: I've published the posters about this for several weeks.
THIS WEEK:
Fresh Potatoes - Red or White
Celery
Parsley
CLICK THE LINK TO ORDER. Please, have your order in by Friday 12noon. Click here to order monk grown veggies Payments: cash (when you pick up your order) or by e-transfer: monks.ns.garden (at) gmail.com. Please wait to pay until we have confirmed that we have enough vegetables to fill your order.
PARISH MEMBERSHIP
Please also remember to send in your Registration, that's Membership Form. This must be done annually. For membership and voting privileges, you must be 18 years of age and a communicant of the Church. The Annual General Meeting is on October 16th which is the 18th Sunday after Pentecost. The meeting will immediately follow the Liturgy and before Coffee Hour. This is where the new Parish Council is presented to the congregation and where anyone can bring up things that need to be discussed under New Business. You also get to listen to the Rector's Report as well as the reports of the President, and the Treasurer, plus a report on the structure (fabric) of the building. Everybody needs to be present for this.
PROSPHORA BAKERS
I'm glad to say that the number of Prosphora bakers is increasing. We have ordered several new Prosphora Seals so that the bakers don't have to go searching to find a seal. I have asked Kateryna Lukiian to organize a schedule for Prosphora baking thus making sure that we are never without bread for the Liturgy.
BEAUTIFUL WEDDING
Congratulations to Vladimir and Meagan on their beautiful Wedding (Crowning) this past Sunday after Liturgy. May God bless Vladimir and Meagan as they proceed into the Life of the Church, the Body of Christ as King and Queen of their new Family in Christ, portraying the glory and honour that God has bestowed upon them.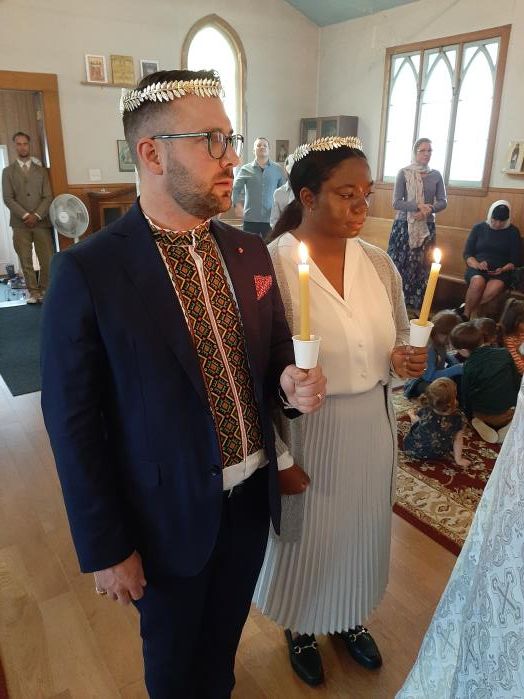 May God bless all of us and keep us in His love,
--Father David