March 24, 2023
4st Sunday of Great Lent
Saturday March 25th 10:00am Liturgy Commemoration of the Departed
(Prepare your list and bring with you as you attend the service)
6:00pm Vigil
St. John 20:11-18
Sunday March 26th 10:00am Divine Liturgy
Commemoration of St. John of the Ladder
Hebrews 6:13-20, St. Mark 9:17-31
Tone 8
Wednesday March 29 6:00pm Presanctified Liturgy
Saturday April 1 6:00pm Vigil
Sunday April 2 10:00am Liturgy Fifth Sunday of Lent St. Mary of Egypt
Friday April 7 10:00am Liturgy Annunciation of the Most Holy Theotokos
Saturday April 8 6:00pm Vigil with Blessing of Palms
Sunday April 9 10:00am Liturgy Palm Sunday Procession with Palms
Thursday April 13 10:00am Vesperal Liturgy Great Thursday The Mystical Supper of Christ
6:00pm Reading of the 12 Passion Gospels
Friday April 14 Great Friday 2:00pm Great Vespers
6:00pm Matins and procession of the Shroud
Saturday April 15 Great Saturday
10:00am Baptism of 3 Catechumens (dried fruit, nuts and wine allowed)
11:00pm Matins and Liturgy of Pascha (blessing of baskets)
Sunday April 16 4:00pm Pascha The Bright Resurrection of Christ Agape Vespers (blessing of baskets)
Please pray for the father of Katereyna Lukiian whose father Fell Asleep in the Lord Monday evening. She won't be able to be at the funeral in Russia due to circumstances making that country inaccessible. He will be commemorated at the Panikhida following this Saturday's Liturgy for the Departed. Remember, that Liturgy is at 10am this Saturday.
Friday this week, the Catechumens will meet at my apartment at 6pm. Father Alexander will speak about a subject very dear to Anton, Jarod, and Taryn who will be baptised on Holy Saturday morning so they can receive their first Communion at the Great Paschal Liturgy.
Please remember that the Adult Discussion Group under the excellent guidance of Dan Wilband, will meet at 4:30pm on this Saturday. If you are not attending these sessions, you are missing discussing the book Great Lent Journey to Pascha, written by Father Alexander Schmemann. You don't have to do anything, just come and listen to the discussion and add any insights you may have.
St. Vladimir Church Camp 2023: Join us for a family-oriented summer retreat for members and friends of St Vladimir Orthodox Parish! We will spend 3 nights together at Ste Anne's Camp, located on Gibson Lake in the beautiful forest of Annapolis County, NS. July 24 - July 27, 2023 (Monday - Thursday).
The Archbishop is visiting. We will be picking him up at the airport on Friday March 31st. and delivering him back to the airport on Monday April 3rd. This is an occasion of great joy to us. Plan to attend everything.
I have invited Father Maximos, Father Peter, and Father Theodore to the after Liturgy Dinner. I've also invited the Monks of the Hermitage of the Annunciation.
We have now passed the halfway point of Great Lent. Lend ends with Palm Sunday and then the even greater fast begins, that of Holy Week leading to The Celebration of the Glorious Resurrection of Christ. You will want to make that journey. Please check your schedules. There is also a schedule on the notice board of the church.
Ivan Making crosses for Father David and Father Alexander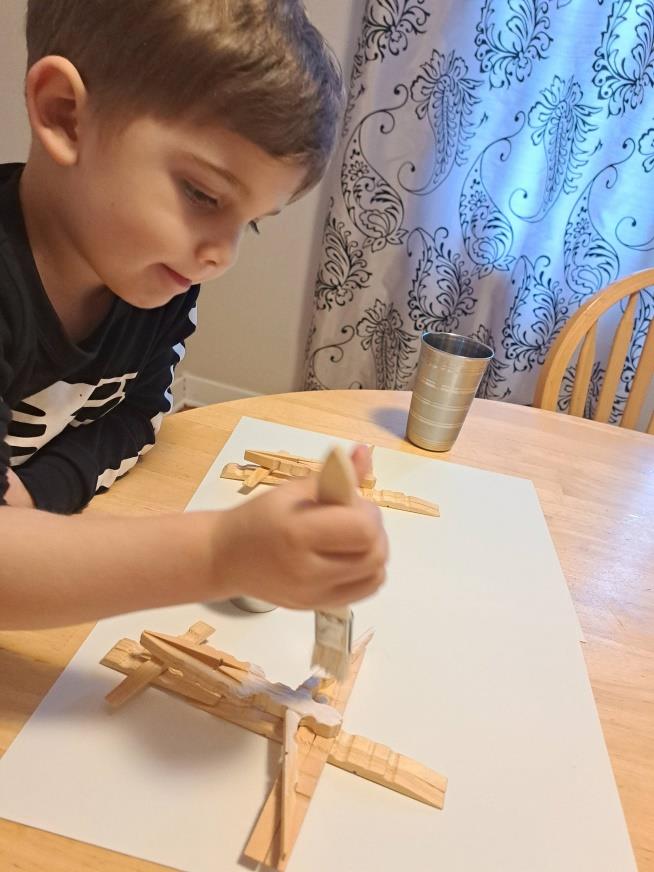 May God Bless all of us,
-- Father David