August 6, 2022
Week 8 after Pentecost
Saturday August 6th 5:30pm Panikhida for the victims of the War in Ukraine followed by Great Vespers
Sunday August 7th 10:00am Divine Liturgy
1 Corinthians 1:10-18
Saint Matthew 14:14-22
Tone: 7
Dormition of Righteous Anna Mother of the Most Holy Theotokos
Galatians 4:22-31
Saint Luke 8:16-21
Tuesday August 9th Holy Great Martyr Panteleimon
1 Corinthians 12:12-26
Saint Matthew 18:18-22, 19:1-2, 13-15
My Dear Friends, I just can't get over it. The Picnic was a great success, the weather was a great success, the venue was a great success, the food was excellent; but most of all the people gathered together; The Parish of Saint Vladimir Prince of Kiev, Halifax Nova Scotia. What an incredible group of people. The love of being together was so obvious. The youngsters had a whale of a time. I hope Sergey found Mark and Jacob, who were hiding from him, before leaving. Who took pictures? I suddenly realized that there was no one taking pictures so I dug out my phone and these pictures are amongst the pictures I managed to snap (as we used to say when I was much younger), before we all dispersed.
St.Vladimir Patronal Feast Picnic
I did have that hotdog with relish, mustard and ketchup, just like the one I had that Canada Day in 1955.
Today is Thursday, and I still can't get over the Picnic. I suppose the thing that really impresses me is that we were all together and that there were so many present. The Catechumens were there, the kids were playing and everyone looked out for everyone. The food was laid out and there was plenty. I'm pretty sure that my life has been leading me to this place and to this time and this parish and that the Lord has waited and guided me to this place and time as Rector of St. Vladimir Orthodox Church in Halifax Nova Scotia; I can't possible believe otherwise. What the Lord has done and is doing in this parish is incredible and He allows me to be a part of it. For me that is a miracle. OK I really do have difficulty with numb legs sometimes especially after standing for a long time and then having to walk. That stool that Rhoda and Mark found for me, make things much more tolerable. You are tolerant and I thank God for that, as I thank God for Father Alexander, and for each of you.
St. Anne or Anna is the Mother of the Theotokos. She is not only the Patron Saint of the Province of Quebec, she is also considered the Grandmother of the Autochtone people of Nova Scotia, the Mi'kmaw.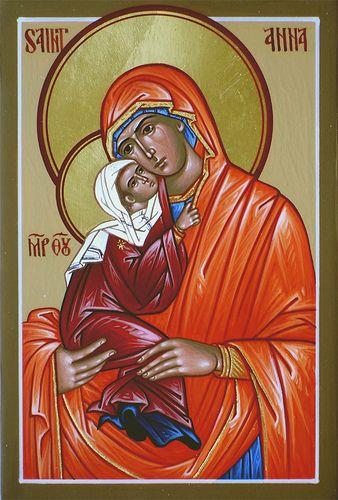 May God continue to bless us as a parish, but also each family and individual,
In Christ,
--Father David