November 25, 2022
Week 24 after Pentecost
Saturday November 26th 6:00 pm Vespers
Sunday November 27th 10:00am Divine Liturgy, followed by Coffee Hour
Readings for this Sunday:
Ephesians 2:14-20
St. Luke 10:25-37
Tone: 7
Monday November 28th Repose of Saint Herman Wonderworker of Alaska
Galatians 5:22-6:2
St. Luke 6:17-23
Beginning of the Nativity Fast. Today Fish Wine and Oil permitted. Check your wall calendar for allowed foods.
Tuesday November 29th Holy Apostle and Evangelist Matthew
1 Corinthians 4:9-16
St. Matthew 9:9-13
Please Note: Between now and Western Christmas (at 8am and concludes at 10am) there is Matins and Divine Liturgy every day, and it goes like this - Monday, Tuesday, Wednesday, Saturday at St. Antonios; Thursday and Friday - St. George.
Regarding the Christmas Fasting Period, check your wall calendar for days when fish, or wine, or oil, are permitted.
I received the following from Alina and print it here for your attention and perhaps response:
Good day, dear community. We are reaching out to you on behalf of a group of volunteers of the Ukrainian Store (www.halifax-ukrainian-store.ca) who are helping displaced Ukrainian families in HRM and surrounding areas with their basic needs. There is a list of almost all the Ukrainian kids in HRM, including kids with special needs and single parents. It's about 67 kids. With the Christmas holidays approaching, volunteers are raising funds to provide a nice sweet present for each one of them. Nothing extraordinary, just a cute bag of various chocolates and sweets to make them smile and laugh. Children definitely deserve it. Even the smallest amount will make a big difference. Your monetary donations (e-transfer) can be sent to: theukrainianstore (at) gmail.com. Please add a note to your donation "Christmas Sweets". Thank you so much for your kindness. With hope for Peace, The Russian Society of the Maritimes
Thank you Alina.
Don't forget the Adult Discussion Group will meet in the basement of the church at 4.30pm on Saturday November 26th.
I had planned on receiving Jarod (who transferred his attendance from St. George to us after consulting with Father Peter and receiving his blessing) into the Catechumenate but it occurred to me that he became a Catechumen under the guidance of Father Peter, so on Saturday after the Discussion group and before Vespers, I shall formally welcome him into the Catechumenate in our parish. If I were to make him a Catechumen again, I would be implying that we are a different Church from the St. George parish. Whereas we are all Orthodox and therefore we, along with St. George, the Greek Parish, and St. Antonios, the Antiochian parish, are in Communion with each other, and are each part of the One Holy Catholic and Apostolic Church. We belong to different jurisdictions with a few different customs, but we are the Same in all important aspects. Jarod therefore is already a Catechumen, so we'll welcome him.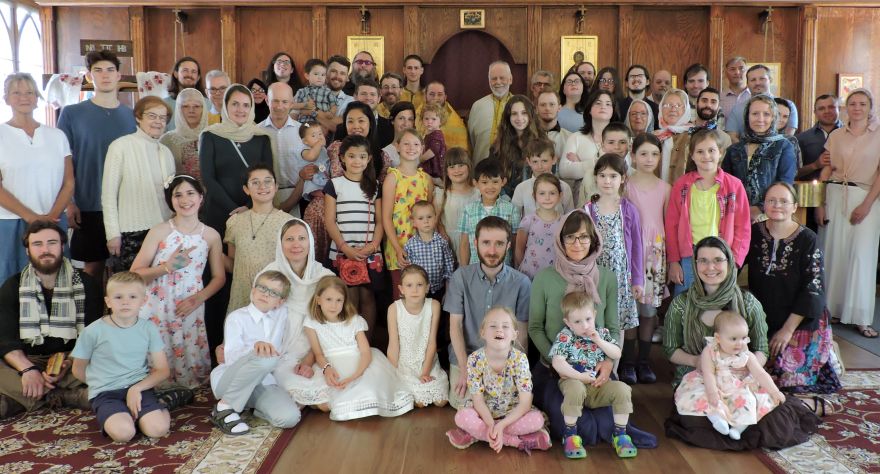 Just to remind you who we are. The next photo of the parish will be taken on the anniversary of this picture, that is Pentecost 2023, Sunday June 4th. Now you have been given 6 months warning to make sure you are at church that day. I would prefer all of us to be present (perhaps to show why we need a new church!).
Do you ever use the book of Psalms for meditation? They are worth looking over. They are the writings of many years ago and attributed to David the King, who slew Goliath. If you consult most Bibles, you will see that there are 150 Psalms, if you consult the Septuagint, there are 151 and the numbering of the Psalms is slightly different. They are worth reading and reflect many different moods. Give them a try and find for yourself how incredible these poems are.
Dan and Michelle have some interesting proposals for the teaching of our Children. For some reason, I have lost the file they sent to me, but I believe they are proposing to have the Children's Education Program meet on a Friday evening, making it an evening of fun and food for everyone, from babies to the elderly. That really is the way to learn The Faith. The Church is a family, we pray, worship, learn, and have fun together, and eat together too. We are a family, there is no doubt, we show that week by week. There are two distinct groups thanks to Dan and Michelle, The Adult Discussion Group, and the General Family Education and fun time. Praise be to God for all things!
May God bless each and every one of us.
Love in that same Christ, our God,
-- Father David
Воскресенья и большие праздники отмечены красным цветом. Постные дни отмечены серым фоном.