March 24, 2023
4st Sunday of Great Lent
Saturday March 25th 10:00am Liturgy Commemoration of the Departed
(Prepare your list and bring with you as you attend the service)
6:00pm Vigil
St. John 20:11-18
Sunday March 26th 10:00am Divine Liturgy
Commemoration of St. John of the Ladder
Hebrews 6:13-20, St. Mark 9:17-31
Tone 8
Wednesday March 29 6:00pm Presanctified Liturgy
Saturday April 1 6:00pm Vigil
Sunday April 2 10:00am Liturgy Fifth Sunday of Lent St. Mary of Egypt
Friday April 7 10:00am Liturgy Annunciation of the Most Holy Theotokos
Saturday April 8 6:00pm Vigil with Blessing of Palms
Sunday April 9 10:00am Liturgy Palm Sunday Procession with Palms
Thursday April 13 10:00am Vesperal Liturgy Great Thursday The Mystical Supper of Christ
6:00pm Reading of the 12 Passion Gospels
Friday April 14 Great Friday 2:00pm Great Vespers
6:00pm Matins and procession of the Shroud
Saturday April 15 Great Saturday
10:00am Baptism of 3 Catechumens (dried fruit, nuts and wine allowed)
11:00pm Matins and Liturgy of Pascha (blessing of baskets)
Sunday April 16 4:00pm Pascha The Bright Resurrection of Christ Agape Vespers (blessing of baskets)
Please pray for the father of Katereyna Lukiian whose father Fell Asleep in the Lord Monday evening. She won't be able to be at the funeral in Russia due to circumstances making that country inaccessible. He will be commemorated at the Panikhida following this Saturday's Liturgy for the Departed. Remember, that Liturgy is at 10am this Saturday.
Friday this week, the Catechumens will meet at my apartment at 6pm. Father Alexander will speak about a subject very dear to Anton, Jarod, and Taryn who will be baptised on Holy Saturday morning so they can receive their first Communion at the Great Paschal Liturgy.
Please remember that the Adult Discussion Group under the excellent guidance of Dan Wilband, will meet at 4:30pm on this Saturday. If you are not attending these sessions, you are missing discussing the book Great Lent Journey to Pascha, written by Father Alexander Schmemann. You don't have to do anything, just come and listen to the discussion and add any insights you may have.
St. Vladimir Church Camp 2023: Join us for a family-oriented summer retreat for members and friends of St Vladimir Orthodox Parish! We will spend 3 nights together at Ste Anne's Camp, located on Gibson Lake in the beautiful forest of Annapolis County, NS. July 24 - July 27, 2023 (Monday - Thursday).
The Archbishop is visiting. We will be picking him up at the airport on Friday March 31st. and delivering him back to the airport on Monday April 3rd. This is an occasion of great joy to us. Plan to attend everything.
I have invited Father Maximos, Father Peter, and Father Theodore to the after Liturgy Dinner. I've also invited the Monks of the Hermitage of the Annunciation.
We have now passed the halfway point of Great Lent. Lend ends with Palm Sunday and then the even greater fast begins, that of Holy Week leading to The Celebration of the Glorious Resurrection of Christ. You will want to make that journey. Please check your schedules. There is also a schedule on the notice board of the church.
Ivan Making crosses for Father David and Father Alexander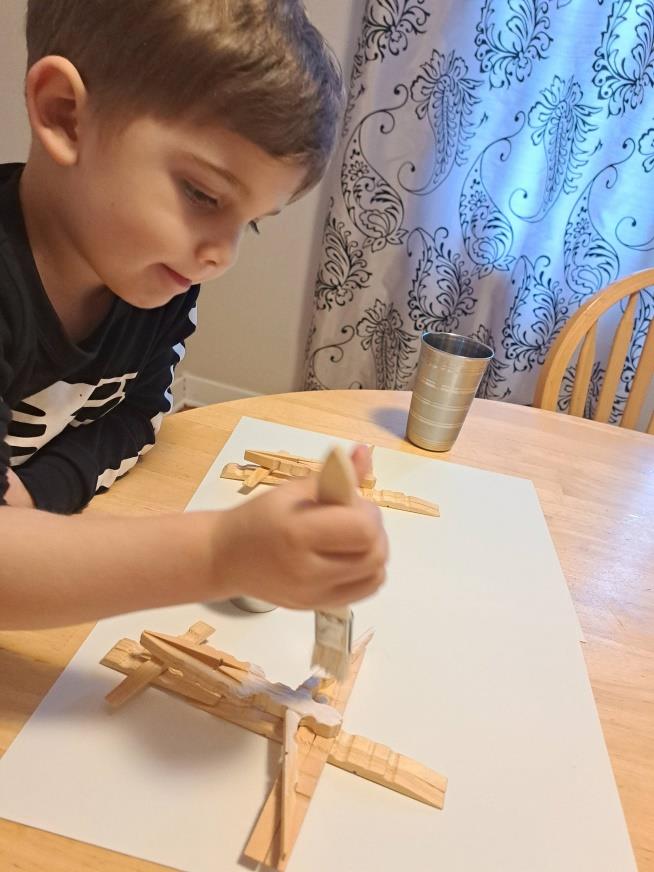 May God Bless all of us,
-- Father David
Воскресенья и большие праздники отмечены красным цветом. Постные дни отмечены серым фоном.
March 17, 2023
3st Sunday of Great Lent
Saturday March 18th 6:00pm Vigil
St. John 20:1-10
Sunday March 19th 10:00am Divine Liturgy
Veneration of the Holy Cross
Hebrews 4:14-5:6 St. Mark 8:34-9:1
Tone 7
Saturday March 25th 10:00am Liturgy Commemoration of the Departed
(Prepare your list and bring with you as you attend the service)
Can you believe that we are almost half way through the Great Fast leading to the brightness of Pascha. This is the 3rd Sunday of the 5 Sunday fast. It is amazing how quickly the Fast goes, and all those plans you had to lose weight during the Fast are skipping away. I encourage all of us for the remaining weeks, plus Holy Week, to see what we can do.
I am sorry to have missed the Presanctified on Wednesday, I had what Father Alexander had the previous week, not too serious but Father Alexander insisted that I stay home. Instead, he dosed me with Strepsils and honey; the Strepsils numbed and the honey soothed, a good combination.
We continue to pray for the victims of the war in Ukraine, all the victims and I mean all of the victims whether they are from Ukraine or Russia, or elsewhere, and if you have read or watched the news stories, you know there are victims all over. We are blessed to have refugees in our parish and we welcome them. We are also blessed to have a priest who speaks Russian, and people who speak Ukrainian and Russian; this is a definite blessing to us.
Remember the Adult Discussion Group a week Saturday.
Please pray!
Love in Christ,
-- Father David
March 10, 2023
2st Sunday of Great Lent
Friday March 10th 6:00pm Catechumen meeting at Father David's apartment
Saturday March 11th 10:00am Liturgy Commemoration of the Departed
(prepare and bring your list)
1 Thessalonians 4:13-17 St. John 5:24-30
6:00pm Vigil
Sunday March 12th 10:00am Divine Liturgy
St. Gregory Palamas
Hebrews 1:10-2:3 St. Mark 2:1-12
Hebrews 7:26-8:2 St. John 10:9-16
Tone 6
It's worth listening and watching Father Lawrence Farley's talk about gender. If you search "Father Lawrence Farley Gender," I'm sure you will find it. It's a talk he gave at St. Tikhon's Monastery and Seminary. It is so informative that I wish I could show it to everyone as a sermon, but since it lasts more than an hour, we'd all be wanting our coffee, so please watch it. If you read in Genesis, you will note that God made two genders, Male and Female; Man, it seems, has made seventy or so more.
Notices
In the church you will notice pamphlets about the St. Vladimir Parish Camp. This is a new venture and very good initiative that I hope everybody will take advantage of. This is not just for children and families that have children, but is for all of us even if we are single or single parent, or are blessed with many children. This is for the parish to have fun and get together. As the pamphlet says, "It will be a time for adults and children to make memories together, strengthen the bonds of friendship and build up the Body of Christ."
There is a Liturgy on Saturday morning at 10. It is one of two Liturgies for the blessed departed. For this, it is the policy of this parish that we include Orthodox and non-Orthodox. You will remember that for inclusion on the Discos during the Proskomedia, it must be only living and departed Orthodox.
We are blessed to have a number of Catechumens. We shall be meeting on Friday evening at 6 at the apartment of Father David. Subdeacon David will be there to talk with the Catechumens and to answer questions about how we do things both in the parish and in the Orthodox Church in general.
The Baptism of Anton, Taran and Jarod is getting close now. The Saturday before Pascha, Great Saturday is their big day. There should be a feast of dried fruits, nuts and wine for this occasion, perhaps buns of some sort could be included. Remember that we are fasting for the big feast that starts at 11 that evening, Glorious Pascha, the Resurrection of Our Lord and God and Saviour Jesus Christ.
I also draw your attention to the Adult Study Group which meets on Saturday at 4:30pm before the Vigil, speaking of the Vigil, you do not have to stay for the whole of it. I noticed fewer people at the Vespers part of the Vigil this past Saturday. You can come for the Vespers part and perhaps stay for the first part of Matins, which is the reading of psalms. Please don't be afraid of the Matins part, I'm learning as well.
I didn't get any pictures of the Vespers for the Triumph of Orthodoxy at St. Antonios Church, but we were well represented. If you were not there you missed the procession around the block with all of us carrying Icons. The Lenten food afterwards was really nice. They gave me a bag of food to bring home and I have been enjoying it during this week.
Thanks also to Father Theodore and Presvetera Joy for the lovely food they have been sending to me. So delicious! Father Theodore is not well yet, please pray for him and for Presvetera Joy. Pray also for their son Peter who comes to us frequently.
If you are wondering about the new format of the Bulletin . . . if you print it back to back (short side) you will find that it prints into a nice pamphlet with the parish details on the front. (Cool Huh! That's if I get it right!) Oh! Speaking of new formats, We've made it to Spring Forward time. That means don't forget to put your clocks forward one hour before you go to bed on Saturday night. If you forget, you'll arrive about time for the end of the Gospel and the rest of us will be bleary eyed.
May God Bless all of us.
Love in Christ,
-- Father David
March 3, 2023
1st Sunday of Great Lent
Saturday March 4th 6:00pm Vigil
Sunday March 5th 10:00am Divine Liturgy
Sunday of Orthodoxy
Hebrews 11:24-26, 11:32-12:2
John 1:43-51
Tone 5
Please note: Great Vespers with Procession of Icons
Sunday 5pm St. Antonios Church
The Baptism of Baby Lucas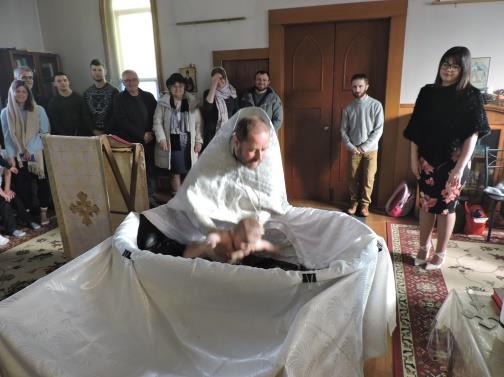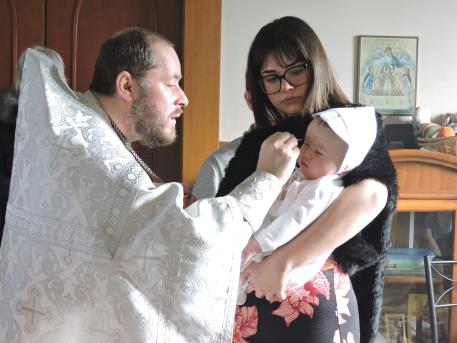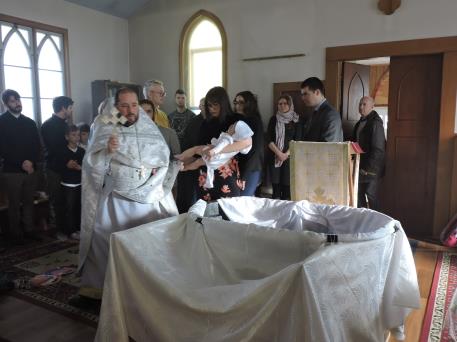 May God bless all of us as we struggle with fasting.
Love in Christ,
-- Father David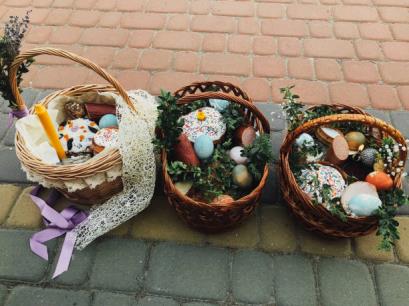 February 24, 2023
Week 37 after Pentecost
Saturday February 24th 6:00pm Vespers
Sunday February 25th 10:00am Divine Liturgy followed by Forgiveness Vespers
Cheese-fare (Forgiveness) Sunday
Romans 13:11-14:4
St. Matthew 6:14-21
Tone 4
Monday February 27th Great Lent Begins
We have almost made it to Great Lent, so now let's make it to Pascha. Monday is the beginning of the Great Fast and I wish all of us the courage to persevere during this time of spiritual renewal. Remember that the fasting is a means to spiritual renewal; it is a time to perhaps look into ourselves and assess where we could make improvements. We could look at our family prayer time, perhaps add a reading from the Scriptures; make a list of those who need our prayers, and pray for them and the Church.
Saturday at 4:30, the Adult Discussion Group will meet in the basement
Remember that next Sunday is the First Sunday of Great Lent and therefore the Sunday we celebrate the Triumph of Orthodoxy, the restoration of the Holy Icons.
Thanks to the people who bring such delicious food for us to enjoy after Liturgy, those who vacuum and clean the floors, clean the tables, look after the dirty dishes and those who sing. Thanks to all who make the church a beautiful place.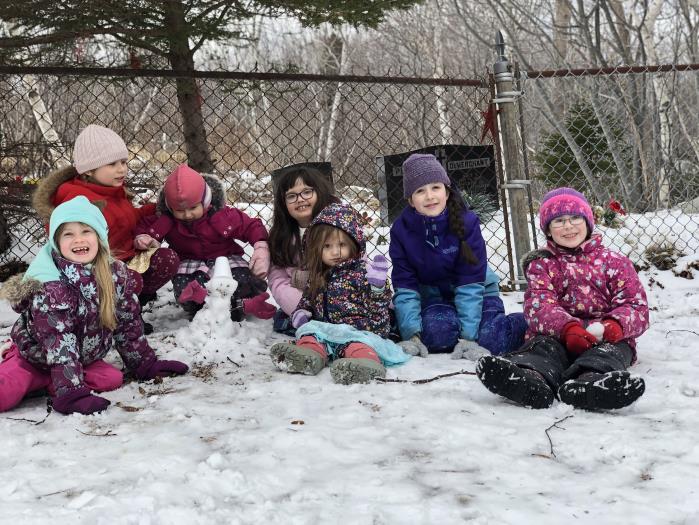 Immediately after receiving Communion, the children should go downstairs for a small snack, some colouring and a rest before returning upstairs for the Vespers service, which no one, not even the children, will want to miss. It is different, unusual and involves us all.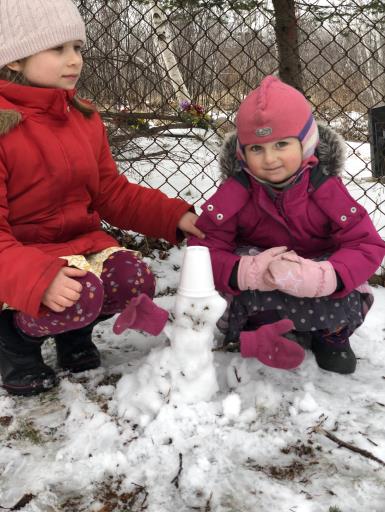 How to transfer money from your bank account to the church account:
Log in to your online or mobile banking app.
Find and select the option "Send an Interac e-Transfer."
On the next screen, select an option "Interac e-Transfer Recipient."
Insert halifaxorthodox@gmail.com
Insert donation amount.
I've just received a request from Father Alexander. This is what he wrote (edited):
Dear Father, Your blessing! I've been in touch with Gennady - a gentleman from Ukraine who came to St. Vladimir's two weeks ago. Back then, he was looking for a place to stay... So the question is if there is anyone who could rent a room for a reasonable price to Gennady in the Halifax area (Dartmouth included) - basically somewhere where he could take a bus to go to work? Gennady is currently staying in Annapolis valley - at the Annapolis Basin Conference Centre. This is a place where they provide temporary housing for Ukrainian refugees. The problem is that there are no jobs in the area, so he is contemplating coming back to Halifax to look for jobs there, but in Halifax, it's difficult to find a place to stay. Love in Christ, pr. Alexander
Please help if you can.
May Christ our God Bless us especially during this time of fasting and bring us to the Glorious Resurrection.
Love in that same Christ,
-- Father David
Schedule of Services for Lent, Holy Week, and Pascha is on the notice board. Please look at it.
February 17, 2023
Week 36 after Pentecost
Saturday February 18th 6:00pm Vespers
Sunday February 19th 10:00am Divine Liturgy and Baptism, followed by Coffee Hour
Meat-fare Sunday, Commemoration of the day of the Second Coming of Christ The Day of Judgement
1Corinthians 8:8-9:2
St. Matthew 25:31-46
Tone 3
We have finally been able to set the date for the visit of Archbishop Irénée to our parish. He and Deacon Denis will be with us on March 25th until the 27th.
We are in the preparation for the great fasting time that of Great Lent. This is the Sunday we call Meat-fare and is the last day we eat meat and fish. Meat, is any animal that has a back bone including fish. There are marine animals that can be eaten for example, squid, octopus, shrimp, crab, lobster, scallops and most shell fish. If you look on your calendar, you will see that occasionally there is the image of a fish. This means that on that day fish is acceptable. Occasionally there will be the image of grapes, which again means that we can drink wine.
This week which is called Cheese-fare week, ending with Cheese-fare Sunday, we can eat cheese and eggs and milk, ice cream, and all those good things, to clean them from our refrigerators. But remember that Children, the elderly, those who are sick, on medications, may not fast.
Peanut butter is a staple during this time as well as hummus, chick-peas, lentils, all sorts of vegetables, beans, peas. There is a folder in the church with recipes and there are lots of recipes on line, we do not need to starve, in fact many would claim that this is the healthiest eating time of the whole year, especially after Cheese-fare.
Dan has just reminded me that the next session of the Adult Discussion Group will be Saturday February 25th at 4:30pm as usual. He has also noted that the children's choir, in which his daughter sings, will be singing Evensong at All Saints Anglican Cathedral on Sunday February 19th at 4pm.
You may notice that Cameron is not with us. He has asked for a time off. The job of leading the Choir and working as a Medical Doctor is very stressful. Please pray for Cameron and Katie. You probably don't know that Cameron has completely reorganized all the music and choir services. It has taken him quite a while. Thank you Cameron!
Next Sunday, Cheese-fare, we not only serve Liturgy but we follow the Liturgy with Vespers because this is also Forgiveness Sunday when we are all prepared to forgive each other. If you have never experienced the forgiveness ceremony, you will not want to miss this.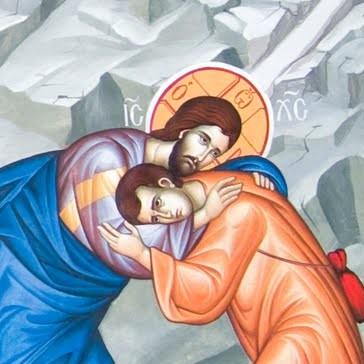 Just to pre-warn all of us that during Great Lent, the number of services will increase. The first weekday indication of that will be the Great Canon of Saint Andrew of Crete. This is usually recited during the first week of Great Lent so watch out for a notice about this and other added services.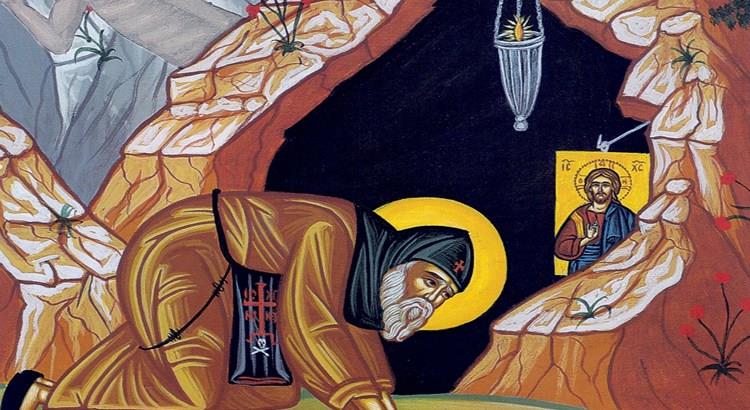 Another pre-warn, and this one is about the Clergy Synaxis on Tuesday July 18th. This is a clergy get together, and is followed on Wednesday and the rest of the week, by the Archdiocesan Assembly, at which parish clergy and one lay delegate should attend. Anyone can attend the Assembly as an observer, more information about all this will follow.
It seems that Symeon's talented mother made a pair of sweaters for her son and Taran. The title of the picture is "Twins," I bet they don't wear those into the water.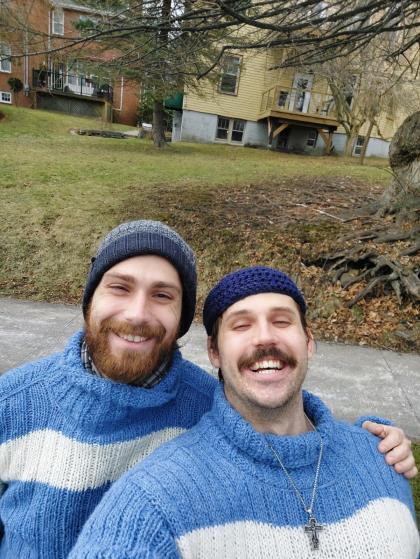 Courage for the Lenten Fast and may God bless all of us.
Love in Christ,
-- Father David
February 10, 2023
Week 35 after Pentecost
Friday February 10th 6pm adult catechumen meeting at Father David's apartment
Saturday February 11th 4:30pm Adult Discussion Group
6:00pm Vespers
Deuteronomy 10:14-21, Deuteronomy
10:14-21, Wisdom 3:1-9
Sunday February 12th 10:00am Divine Liturgy, followed by Coffee Hour
Sunday of the Prodigal Son
1Corinthians 6: 12-20
St. Luke 15:11-32
Synaxis of the Three Hierarchs: St. Basil the Great, St. Gregory the Theologian, and St. John Chrysostom
Hebrews 13:7-16, St. Matthew 5:14-19
Tone 2
Tuesday February 14th 6pm Vespers with Litia
Reading 1 Exodus 12:51-13:3, 10-12,
14-16, Exodus 22-29, Leviticus 12:1-4,
6-8, Numbers 8:16-17
Reading 2 Isaiah 6:1-12
Reading 3 Isaiah 19:1-5, 12 16, 19-21
Wednesday February 15th The Meeting of Our Lord, God and Saviour Jesus Christ
These are the sort of candles that Taran hopes to give to the homeless, with the food. They are available from Dollorama, and here is a list of things that would be useful: Pallets, Fire wood, Scrap wood, Tarps, Duct Tape, Tuck Tape, Emergency type Blankets (that's the blankets that look like thin aluminum foil).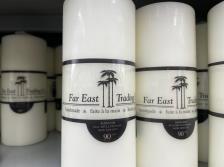 If there is anyone who could help by reading or intoning the responses, in other words the choir's part, weekdays when we have no choir, Please let Father David know. We could then schedule weekday morning liturgies.
May God bless all of us,
In Christ,
-- Father David
February 4, 2023
Week 34 after Pentecost
Saturday February 4th 5:30pm Panikhida for the victims of the war in Ukraine, followed by Vespers
Isaiah 43:9-14, Wisdom 3:1-9,
Wisdom 4:7-15
Sunday February 5th 10:00am Divine Liturgy, followed by Coffee Hour
Sunday of the Publican and the Pharisee
Beginning of the Lenten Triodion
2 Timothy 3:10-15
St. Luke 18:10-14
Sunday of the New Martyrs and Confessors of Russia
Romans 8:28-39
St. Luke 21:12-19
Tone 1
Small bulletin this week.
Reminder of the Family Fun and Sunday School this Friday evening starting at 5pm in the basement of the church. All those involved had a wonderful time last time we got together and this time will be fun too. Anybody can come, especially the children.
I'd like to meet with the Catechumens on Friday 10th February at 6pm, probably at my apartment. We shall be discussing St. Theophan the Recluse on Prayer, and Great Lent and what are the Orthodox expectations as regards fasting.
A great thank you to all who have phoned, visited, shown concern, and supplied lovely food.
Waiting for Daddy and Grandad.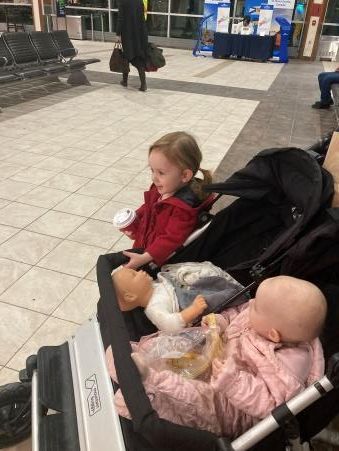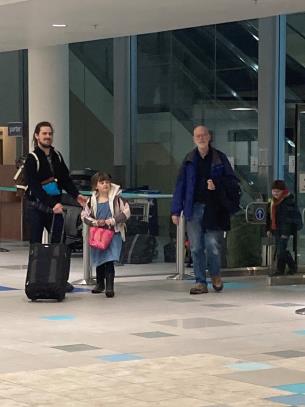 Love in Christ,
-- Father David
January 27, 2023
Week 33 after Pentecost
Saturday January 28th 5:30pm Adult Discussion Group followed by Vespers
Sunday January 29th 10:00am Divine Liturgy, followed by Coffee Hour
Zacchaeus Sunday
1Timothy 4:9-15
St. Luke 19:1-10
Veneration of the Precious Chains of the Holy and All-Glorious Apostle Peter
Acts of the Apostles 12:1-11
St. John 21:15-25
Tone 8
Please note that in the same way we have sprinkled the church with Holy Water, we need to sprinkle your home with Holy Water. Please ask me or Father Alexander and arrange a time for the blessing of your home.
Let me say right away how thankful I am that I was not hurt more than I was. Your care was incredible, thank you. At the moment my back aches and is sore. I could have broken something and I am really thankful that no bones were broken except perhaps the dorsal left side floating ribs being bruised, cracked or perhaps broken. There is little one can do for that except bind and use pain medication. Both of these measures I am using. I want to thank all who have suggested that they do house-work, some have even provided me with soup, and meals and even a very delicious cheesecake. Delicious!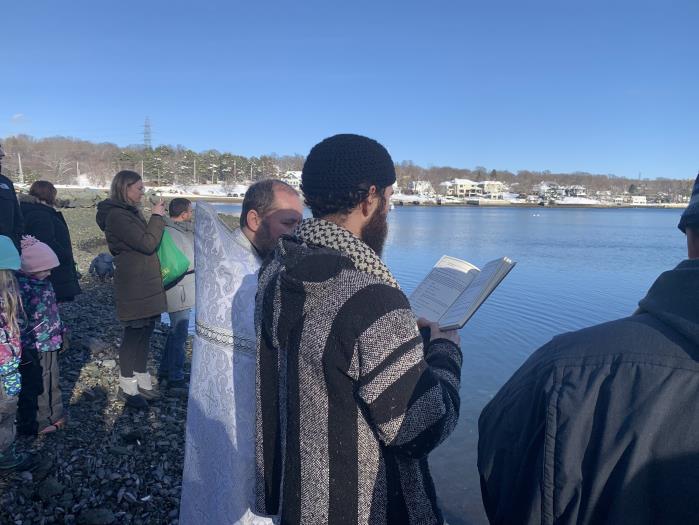 I may not be able to be at church on Saturday and Sunday because of the ache. There is a baptism during the Liturgy. Please give Father Alexander as much help as possible. I do not like leaving him alone. Please remember that he works full-time at the University and this is just a further worry for him. He is a wonderful priest.
A few moments ago, I was speaking with Braidyn-Spyridon and it seems that his Grandma Maggie has had a stroke. She is over a hundred, please pray for her and her family.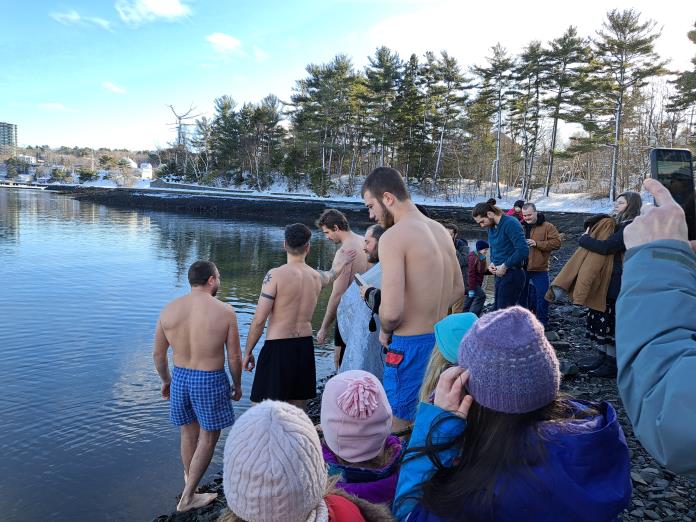 Don't you just wish you had gone down to the blessing of the Atlantic. I didn't go for obvious reasons but Father Alexander went and blessed the Ocean and 6 of the parish's young men jumped into the water to retrieve the cross. I see from the photographs that Sergey had the cross in his hand. Brilliant? Josh had to jump in after the others - he was doing the prayers. I understand the bottom of the water was complete mud. I know that at least two slipped. This is now a St. Vladimir Parish tradition. I refuse to have an accident before the next year dip. (God willing!) The whole set of photos can be seen on our parish Website. Alina will have put everything up including the two videos. If there are any more photos or videos, please forward them to Alina for inclusion on our web pages.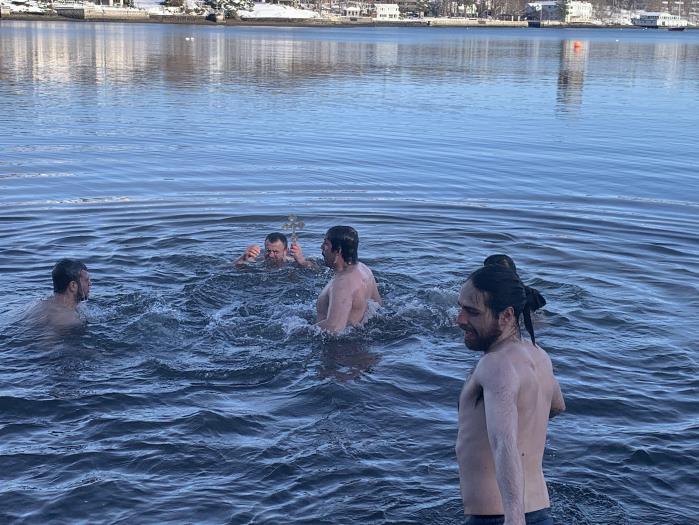 Thank you very much for the Christmas Gifts very thoughtful of you, as usual. God Bless all of us,
Love in Christ,
-- Father David
January 20, 2023
Week 32 after Pentecost
Saturday January 21th 6:00pm Vespers
Sunday January 22th 10:00am Divine Liturgy, followed by Coffee Hour
After Feast of the Theophany
Ephesians 4:7-13
St. Matthew 4:12-17
St. Philip, Metropolitan of Moscow
Hebrews 13:17-21
St. John 10:9-16
Tone 7
Please note that in the same way we have sprinkled the church with Holy Water, we need to sprinkle your home with Holy Water. Please ask me or Father Alexander and arrange a time for the blessing of your home. Theophany House Blessing is not the same service as the blessing of a new home. It is a short service where the priest says a short prayer then he and the people sing the Troparion of the Theophany while sprinkling the home with Holy Water:
When You, O Lord were baptized in the Jordan
the worship of the Trinity was made manifest
for the voice of the Father bore witness to You
and called You His beloved Son.
And the Spirit, in the form of a dove,
confirmed the truthfulness of His word.
O Christ, our God, You have revealed Yourself
and have enlightened the world, glory to You!
You are welcome to offer the priest a cup of tea or coffee afterwards. You could have a candle, an icon, and a bowl with Holy Water ready. It is all very simple and lasts about a half an hour, of course depending how large your home or apartment is; yes, apartments are bless as well, even tents and motor homes if that is where you live. What we are doing is sanctifying your home the same way we sanctify the church.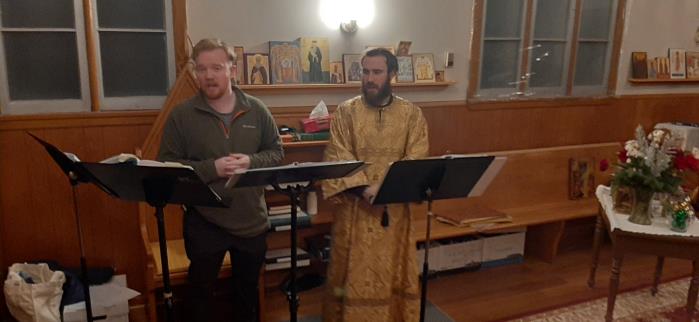 We have a number of Catechumens now. Please make sure they feel at home and feel a part of us. They are learning the Faith by being at the services after all that's where the real learning how to be Orthodox takes place. Father Nicholas Behr (Father John Behr's father) told me that, when I was becoming Orthodox a long time ago, that's was well into the last century. (Thinking of that, I now pause for a cup of coffee and a biscuit or two.)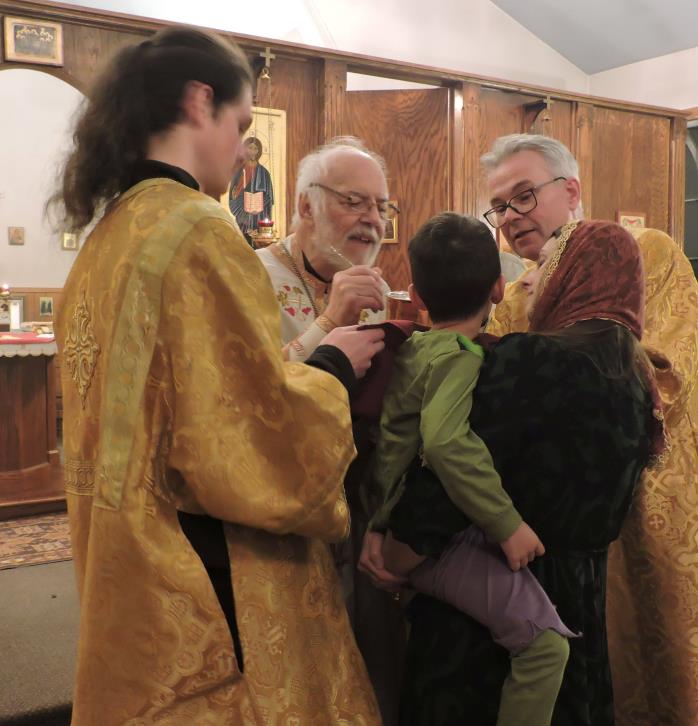 I want to thank all those who gave Christmas Gifts, cards and wishes. Thank you. You spoil me!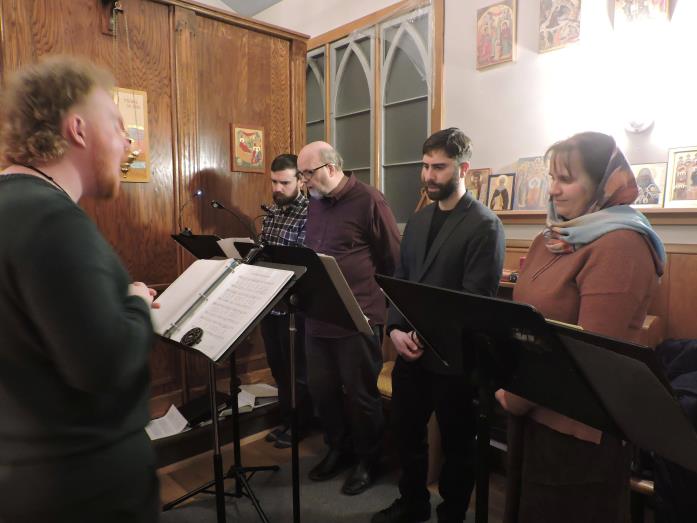 Can you believe how many came for the Vesperal Liturgy and the Great Blessing of Water? We even had a feast afterwards, thank you Kristen, and those who brought food and drink. Thanks to Cameron, the music was beautiful and thanks to the altar crew, it all went smoothly, and a large thank you to Father Alexander who always makes sure I am not too taxed, and able to cope; he is always there to fill in.
Father Theodore continues to need our prayers. He is home and improving but perhaps not quite as quickly as he should.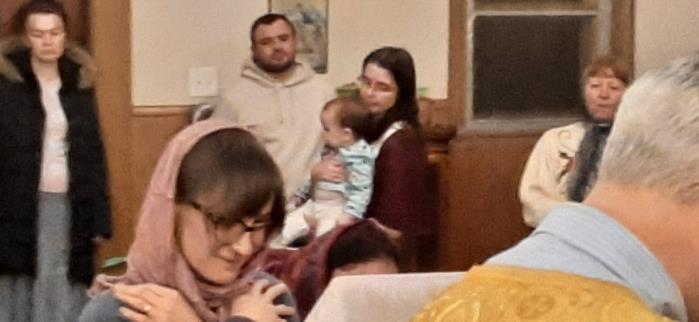 With the Feast of the Theophany we conclude the Christmas season, so now we can remove Christmas Decorations storing them carefully for next year when hopefully, we can use them again, according to God's Will, of course. Thanks to those who decorated the church so beautifully this year, it was really lovely.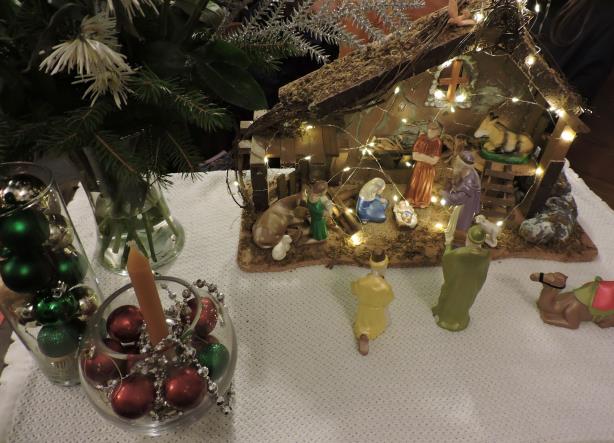 You can find most of these and many more pictures on our website, some I took but the majority were taken by Alina. It was amazing how many of the children came to the late evening service at Christmas. Some were awakened for Communion, and I suspect a couple didn't know exactly where they were. One, I remember, had to have his mouth opened to receive Communion; he was more asleep than awake. It was all really nice to see.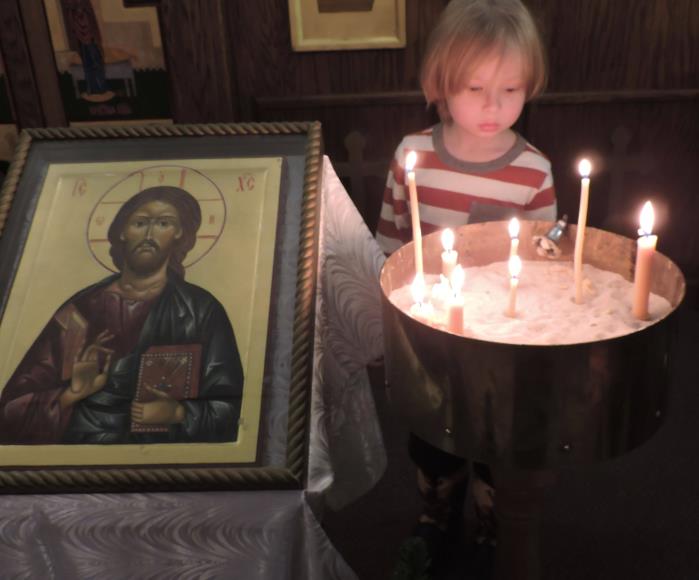 Father Alexander and I served with Father Maximos, Father Peter and the priest from Prince Edward Island, at the feast of St. Anthony, the Patron Saint of St. Antonios Church. It was a very nice service. I hadn't remembered that amongst the many Relics that St. Antonios has, is a relic of St. Anthony. What a blessing!
Well my Dear Friends,
May God bless all of us and protect us
from all evil and from anything that
might hurt us,
Love in Christ,
-- Father David
January 13, 2023
Week 31 after Pentecost
Saturday January 14th 6:00pm Vespers (Following the Adult Discussion Group)
Genesis 17:1-7, 9-12, 14; Proverbs 8:22-30;
Proverbs 10:31-32, 11:1-12
Sunday January 15th 10:00am Divine Liturgy, followed by Coffee Hour
Forefeast of the Theophany
2 Timothy 4:5-8
St. Mark 1:1-8
St. Seraphim Wonderworker of Sarov
Galatians 5:22-6:2
St. Luke 6:17-23
Tone 6
Wednesday January 18th 5:00pm Theophany Eve Vesperal Liturgy of St. Basil, Great Blessing of Water (fill bottles and jars with Holy Water)
Saturday January 14th 4:30pm Adult Discussion Group. All welcome
Please remember that on Wednesday January 18th there is the Vesperal Liturgy of St. Basil. This is the Liturgy to celebrate the Theophany. We will start at 5pm so we can get the Great Blessing of Water in and because many will be fasting before Communion.
Can you believe that we have just come through the Fast Free week. We were even permitted to eat meat on Wednesday and Friday following Christmas. Now we settle into the regular pattern of Wednesday and Friday fasting but be sure to consult your Calendar, which are for sale in the Foyer for $10; there are two sorts, all English and Slavonic and English.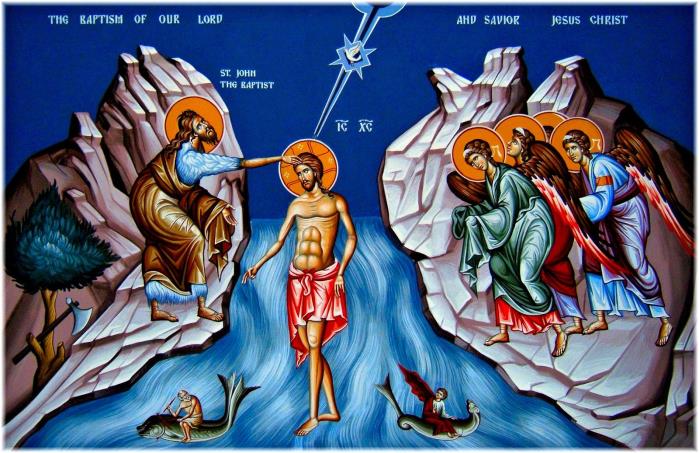 Theophany is the Revealing of God. In this Icon Jesus is being Baptised by John the Forerunner but John is not looking at Jesus, he is paying attention to the descent of the Holy Spirit and the Voice of God the Father. The angels are waiting to clothe Jesus, the New Adam. God made Adam and Eve naked but through shame they put on clothing so Jesus is naked and not ashamed, undoing the shame of The Garden. You might notice the Ocean and the River Jordan giving way to the greater power as Creation is Baptised in the person of Christ.
Remember the shell and stone icons made by Father Theodore and Presbytera Joy. Pray for Father Theodore who is out of hospital, Glory to God.
Here is a note from Taran about the parish outreach to the homeless:
"Hello Dear brothers and sisters in Christ,
I humbly wish to begin planning the next mission to the homeless. Since the situation is ever changing, I will go again to visit the parks and see where people are. I hope to pick a day of good weather to go out in this time. May God grant us this.
Also Morgan has been inspired through the grace of God to contact certain individuals already involved in similar outreach projects and has received some helpful advice from them. I think it would be great to have a meeting to discuss future plans and how to move forward with this Holy Ministry in the name of Christ. If folks could give me a rough sense of their schedule for the next couple weeks that would be great.
Also, It is worth mentioning that many other Parishioners have expressed interest in being involved in this ministry, so please don't feel pressured to participate in every occasion or every meeting. We are all One in Christ and together, with God's help, we will accomplish much.
Thank you all again for your hard work, your heartfelt concern for the needy, and most of all, for your prayers. Our Prayers are our primary weapons against the enemy of Mankind, and God is infinitely faithful and loving. He will provide us everything we need to take care of His Children.
I thank God for you all. May God bless you and be born a new in your hearts unto the ages of ages. Amen.
Christ is Born, Glorify Him!
Love in Christ,
-- Taran"
Some pictures taken by Alina at the Christmas celebration: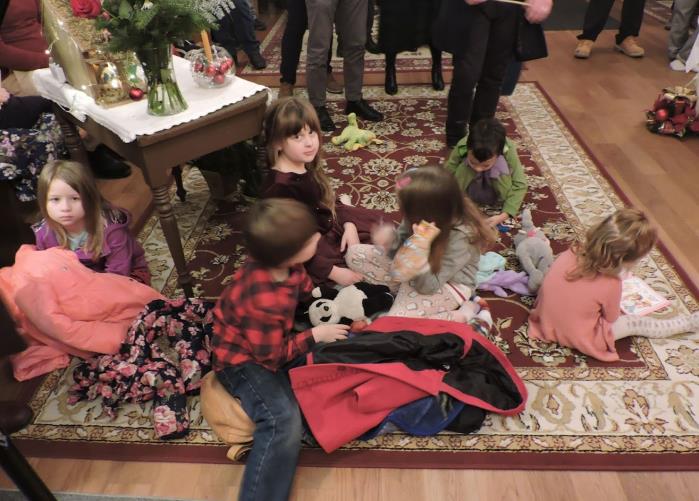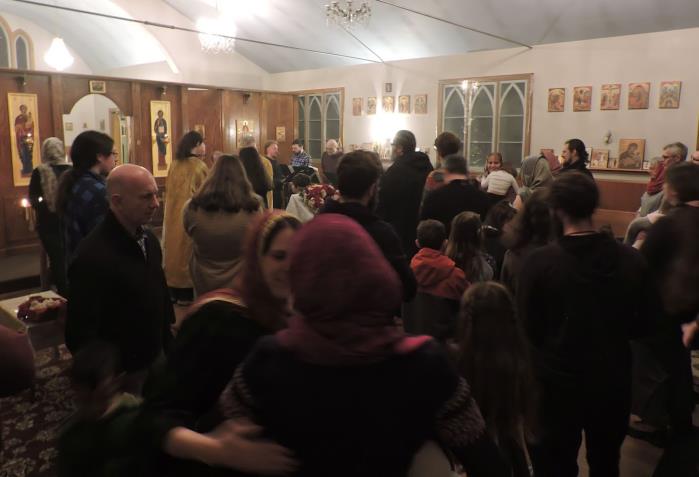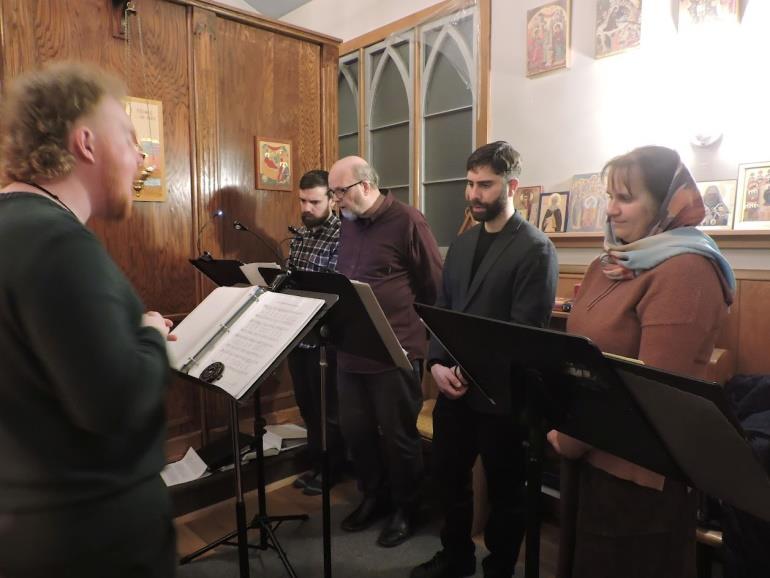 There are more photos at: https://photos.app.goo.gl/R7fiuhKpJcdLfGwL9
May God bless each of us,
Love in Christ,
-- Father David
January 6, 2023
Week 30 after Pentecost
The Nativity according to the Flesh of Our Lord, God, and Saviour Jesus Christ
Friday January 6th 9:00pm Matins followed by Liturgy
Galatians 4:4-7
Matthew 2:1-12
Saturday January 7th 6:00pm Vespers
Sunday January 8th 10:00am Divine Liturgy, followed by Coffee Hour
Sunday before the Nativity
Colossians 3:12-16
St. Luke 18:35-43
Tone: 5
Commemoration of the Holy Righteous Ones: Joseph the Betrothed, David the King, and James the Brother of the Lord
Galatians 1:11-19
St. Matthew 2:13-23
May God bless all of us who are the Parish of St. Vladimir Prince of Kiev. Father Alexander and I wish every one a Very Merry Christmas, "May God Bless Us, Every One" (Thank you Charles Dickens!)